The first 1000 players to reach level 100 in Diablo 4's Hardcore Mode will have their names carved into a statue of Lilith at the Blizzard HQ. And already got our first names. Check out the Diablo 4 Hardcore Leaderboard below.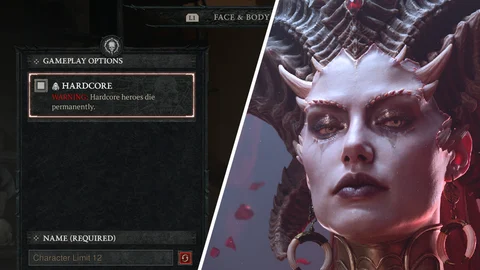 Diablo 4 has launched with great success. Reviewers love it, fans feel the same (except where microtransactions are concerned) and the servers have been relatively stable. So what better way for Blizzard to celebrate than with a launch day event?

The event in question is simple: the first 1000 players to reach level 100 in Hardcore Mode will have their names inscribed into a statue of Lilith:
Tomorrow your trial begins.

Reach level 100 on hardcore mode and tweet #Diablo4Hardcore with your https://t.co/Uq1X3ocAkr ID and proof to have your username carved into a statue of Lilith at Blizzard HQ.

Offer limited to first 1000, restrictions apply: https://t.co/TLWxZwG0aQ pic.twitter.com/gIzAthGmna

— Diablo (@Diablo) May 31, 2023
When you die in Hardcore Mode your character is deleted, so this is a crazy difficult challenge. We're trying to keep tabs on which players reach that milestone first, check out the Hardcore Leaderboard below.
Diablo 4 Hardcore Leaderboard - The Hardcore 100 Race Is Over
Folks, it already happened: the hardcore 100 race is done. Congratulations to the streamer cArn_ for being the first person to reach this magnificent milestone and reaching level 100 in Diablo 4's hardcore mode.

We kinda can't believe it someone already pulled this off, just a few days after the early access launch of the game. There's a Twitch clip of him getting to this glorious achievement, you can check it out here:
If you're into content creators who play ARPGs, cArn_ could be a familiar name to you. He has previously won races for Path of Exile and is specialized in this type of challenge.
Btw: Both him and Rob2628, who achieved level 100 on normal difficulty, played as the Barbarian. As you can see in our Diablo 4 classes tier list, we're not the biggest fans of the good ol' Barb. But maybe we need to bump it up now.
Who Else Made It?
Unfortunately, Blizzard has not made an official Hardcore leaderboard yet. But don't fret: fans have of course stepped in. One unofficial source keeping track of the Hardcore leaderboard is D4race, a website which lists a number of players who have achieved this amazing feat.

Of course, this website is not affiliated with Blizzard and is admitting to no longer being updated. But if you're curious about the players who have made it so far, this is the best source we got.
If you're wondering what class to play next, maybe check out our endgame tier list, or just watch this vid:
This article contains affiliate links which are marked with [shopping symbol]. These links can provide a small commission for us under certain conditions. This never affects the products price for you.