Esports Insider will bring the ESI London to BOXPARK Wembley once again and the agenda has finally been confirmed. Find out about the attending companies and speakers of ESI London in this article.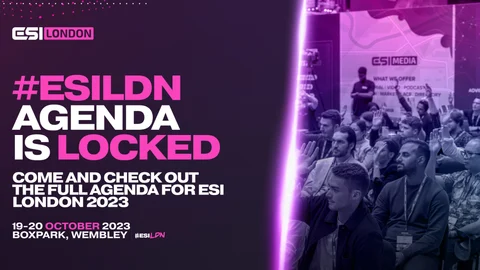 From October 19-20, 2023 ESI (Esports Insider) will host the ESI London, an esports and video games industry festival. ESI London 2023 will once again bring the world's esports and video games industry festival to BOXPARK Wembley for the third year.
For two days, the festival will be the destination for the esports and video games industries and provide industry insights in the form of sessions, professional lead workshops, panels and presentations as well as the chance to network with a global attendance of over 700 across brands, teams, publishers, media, creators, investors and more.
ESI London Agenda
The ESI London will feature speakers from companies such as EA SPORTS, Pringles, Invictus Games, G2 Esports, Logitech G, and NASEF. You can find the whole agenda here, but we will also give you an insight into what you can expect:
The future of Counter-Strike esports

Alex Inglot - Commissioner - ESL Pro League

Marcus Schön - CFO - 9INE


The perfect esports venue doesn't exist?


Dalian Ghent - Events and Community Coordinator - SideQuest Gamers Hub

Adam Rydings - Director - Level Tap


Gaming, esports, recovery and the Invictus Games Foundation


Daniel Bingley - Network Architect - RBL

Sam Newell - Director Of Communications - Invictus Games Foundation

Daniel Penter - Managing Director & Co-Founder - UK Veterans Gaming


Who's coaching the coaches?

More than just a stream: Innovating the esports experience


Luka Drezga - Chief Operating Officer - Ars Futura


EA SPORTS FC - A new era


Sam Turkbas - Sr. Director & Commissioner, FC Esports - EA SPORTS
More than just a stream: Innovating the Esports Experience


Luka Drezga - Chief Operating Officer - Ars Futura


Content creators and esports orgs: Where is the value?


Alban Dechelotte - CEO - G2 Esports

Mitsouko Anderson - COO - DotX Talent

Freeman Williams - Talent Manager - EXCEL ESPORTS


Uniting brands and creators: Why work together?


Morgan Caelum - UK Community and Creator Manager - Logitech G


Stay in the game: Creator campaigns that POP!


David Juvany- Senior Brand Manager - Pringles EU

Avril Ryan - Asst. Brand Manager Partnerships & Promotions - Pringles EU


Creator Platforms: A Shifting Landscape


Imogen Wood - Co-Founder - Socially
Next to the sessions and panels, ESI London will also ofer fun, social experiences such as "PopGolf", "Bad Axe Throwing" and "Meet Space VR", as well as host the live finals of the Lions Clash Rocket League collegiate tournament.
If you want to know more about what ESI London is all about, you can register your interest in ESI Summer Social Birmingham, which will be on September 6th at Resorts World Birmingham and touch on exactly this.