The upcoming Final Fantasy 14 Patch 6.5 will show us the final major content update for the "Endwalker" expansion, before moving on for good. Oh, and Fall Guys are coming to the game...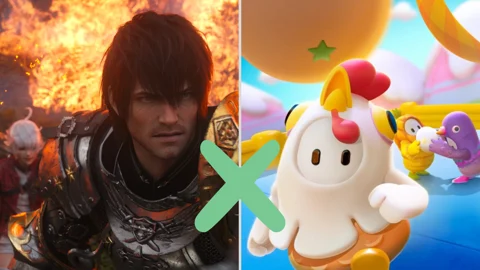 At the Final Fantasy 14 Fan Festival in Vegas, director Naoki "Yoshi-P" Yoshida announced the final major content update, called "Growing Light". It's the first of two major content update parts, revealing the last adventure of the "Endwalker" expansion.
The update will be split into two parts. While Part 1 from Patch 6.5 releases in early October 2023, the second part releases in Mid-January 2024. Beside the expanded free trial, there is also the final Alliance Raid, a Fall Guys collaboration and more to come.
This is what you can expect from Patch 6.5:
Final Fantasy 14 Patch 6.5 Overview:
New Recognizable Main Story Dungeon
Free Trial Includes Another Expansion
Collaboration With Fall Guys
Expanded Duty Support System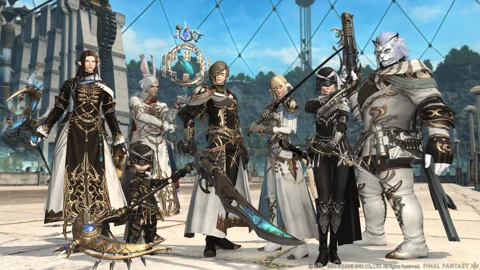 Final Fantasy 14 Patch 6.5: New Recognizable Main Story Dungeon
The current main story plot takes you back to the Thirteenth Shard as you dive into The Lunar Subterrane dungeon. Which shares the exact same name as the final dungeon in Final Fantasy 4. After completing it, you will face villain Zeromus in the Abyssal Fracture trial.
Besides the added main story dungeon, Yoshi-P also confirmed the inclusion of the final Alliance Raid of the Myths of the Realm series, called "Thaleia".
Yoshi-P said while being on stage:
One thing people have really liked about the Myths of the Realm thus far is the really pretty maps that you fight on, so we've put a lot of effort into that this time as well.
Final Fantasy 14 Patch 6.5: Free Trial Includes Another Expansion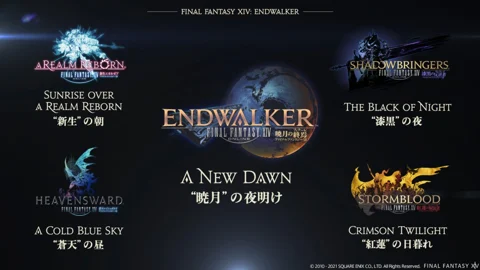 The free trial version of Final Fantasy 14 is perfect for new fans who want to try the MMORPG without worrying about costs. It includes the base game "A Realm Reborn" and the "Heavensward" expansion. You get to enjoy everything these expansions have to offer without any playtime restrictions or limitations.
During the Fan Fest in Vegas, Yoshi-P made an even more generous offer! Besides A Realm Reborn and Heavensward, they even added "Stormblood" to the free trial. This means you can level up all your jobs to 70, unlock the Red Mage and Samurai classes, and progress further in the storyline.
The #FFXIV Free Trial will be further expanded to include Stormblood, arriving alongside the release of Patch 6.5! pic.twitter.com/IWp9OlBZQy

— FINAL FANTASY XIV (@FF_XIV_EN) July 28, 2023
With the free trial, there are some restrictions, like not being able to chat, send party invites (though you can receive them), or join/create a Free Company (guild). But you still get lots of free playtime!
Final Fantasy 14 Patch 6.5: Collaboration With Fall Guys
The collaboration between those two games will hit Fall Guys first. Starting with a new fame pass from August 22 to October 3, your running jelly beans will get some new costumes. These are the announced ones costumes:
Dragoon & White Mage
Alphinaud & Alisaie Leveilleur
Namazu
Goobbue
Fat Chocobo
Fat Black Chocobo
And here is the announcement trailer:
In Spring 2024, Final Fantasy 14 will add Fall Guys content to the Manderville Gold Saucer. This includes a new GATE activity and an obstacle course with support for 24 players.
According to some released screenshots at the Fan Fest, you will face multiple courses. One of the challenges will shrink the field from 24 to 16 as you compete with others. It remains unknown how many courses you have to face until you reach the crown.
The course is still in development and more information will be released with the upcoming Patch 6.5 letter.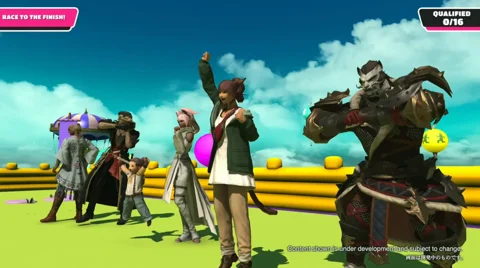 Final Fantasy 14 Patch 6.5: Expanded Duty Support System
The Duty Support system is a popular long-term project from the devs, especially for solo players. It allows you to complete dungeons without needing to add players to your team.
Square Enix added this system to avoid long waiting times while searching for players and to help solo adventurers. You'll have helpful NPCs by your side, who are already known through the story. Together, you'll conquer dungeons and progress in the story.
July 29, 2023
With Patch 6.5, the Duty Support system will expand even further, covering all the content from A Realm Reborn, Heavensward and Stormblood. Only in certain 8-player Trials and 24-player Crystal Tower Alliance raids, you need to party up with players from the server.
Final Fantasy 14 is available for PC, PlayStation 4, PlayStation 5. Soon there will even be an Xbox Series X|S version of the game.
This article contains affiliate links which are marked with [shopping symbol]. These links can provide a small commission for us under certain conditions. This never affects the products price for you.