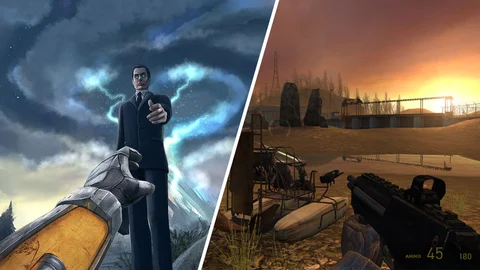 Over the last few years, we've seen tons of remakes and remasters. Half-Life was no exception, as the original game was given life once more with Black Mesa. Now, a Half-Life 2 Remake or Remaster might be the next in line. Here's what we know so far.
If you're a Half-Life fan, the past year was probably full of excitement. Half-Life: Alyx surpassed everyone's expectations, and Valve proved once and for all that VR is here to stay. The game served as a prequel to events that we've already seen in the series. Two months after the release of Alyx, we saw Half-Life: Black Mesa. The community-driven project remade the original title with modern graphics and improved gameplay. Is Half-Life 2 the next game to get a remaster?
Half-Life 2 Remaster Could Be on the Way
While many of us still hope that we'd one day see the release of Half-Life 3, a remaster of the second game would also be a nice addition. According to a recent leak, we should definitely get our hopes up for a Half-Life 2 remaster.
According to @SteamDB, the team that brought us Half-Life 2: Update is working on a further update and remaster of HL2 & the Episodes, with Valve's consent.

The Half-Life 2: Remastered Collection is coming soon to Steam.https://t.co/5YTjhpS2ud

— Tyler McVicker (@Tyler_McV) July 29, 2021
According to the leak, the remaster is already in development and it has Valve's blessing. The Half-Life 2 remaster is being made by the same team that released a community-made mod for the title, years ago, labeled simply Half-Life: Update.
The source of the leak is a new entry in the SteamDB called Half-Life 2: Remastered Collection. McVicker followed up with another tweet, and confirmed the legitimacy of the project.
I have been able to confirm this projects legitimacy, being made by the former Half-Life 2: Update team.

Report incoming. pic.twitter.com/W0r9cnKhie

— Tyler McVicker (@Tyler_McV) July 29, 2021
There's still no official confirmation from Valve, and that's hardly surprising. The company has a bad reputation when it comes to communication, but this time it might be for the better. Still, you should take the information with a grain of salt until Valve make an official post about it, or we see it come to life.

Anyone who hasn't played Half-Life 2 might soon have an opportunity to do so in a brand-new light. The game's story is still incomplete, but we doubt that the remaster will add anything to the plot.
Are you excited about the potential Half-Life 2 Remaster? Will Half-Life 3 ever see the light of day?
Register at MyEarlyGame to customize the content on our website and enter exclusive giveaways or tournaments. For more gaming news stay with EarlyGame.