Just a month before release, Hogwarts Legacy has become the target of a creative form of protest, with Steam users applying multiple critical tags to the game.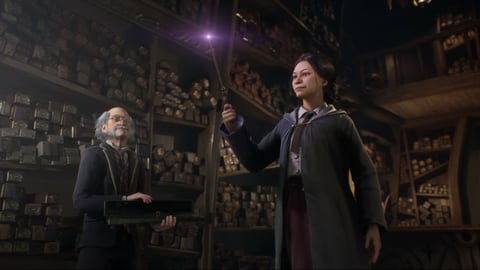 Hogwarts Legacy will be one of the biggest releases of 2023, as confirmed by its massive pre-order numbers. But it will also be a controversial release because, as you all probably know, Harry Potter's creator J.K. Rowling has been accused of making transphobic remarks on numerous occasions. And as with so many of her recent works, this has led to boycotts and protests against the game.
This tension is becoming particularly relevant again as we approach the Hogwarts Legacy release date. Already, Steam users opposed to the game have begun creatively protesting with the use of Steam tags.
Hogwarts Legacy Gets Tag-Bombed On Steam – "Transphobic", "Psychological Horror" & More
Using Steams customizable tag system, players have attached tags like "Transphobic" and "Transphobia" to Hogwarts Legacy's page on the Steam store. Someone at Valve, the owners of Steam, quickly caught wind and removed these tags. But that, obviously, didn't stop people in their pursuit.
The protesters continued to use more subtle tactics to show their dislike of the game, attaching other tags with negative connotations like "Psychological Horror", "World War 2", even more out-there ones like "NSFW" and "Capitalism". But this didn't last too long either – if you look at the game's Steam page now, you will only see the usual tags like "RPG" or "Open World". Steam has also disabled reviews for the time being.
J.K. Rowling is not involved in the making of the game, as is explained in the official FAQ. But as the rights' holder for the Harry Potter franchise, she is still set to earn profits from the success of Hogwarts Legacy. This has caused multiple calls for boycotts and protests such as this one. As the release of the game on February 10 comes ever closer, we're sure that the controversy surrounding Rowling will make the headlines again.