The next version of Honkai Star Rail is slowly but surely creeping around the corner and one of the newest upcoming 5-Stars looks oddly familiar! Obviously we're talking about the new and upgraded Dan Heng Imbibitor Lunae. His kit looks super excited so let's find out how to build him and which team comp may suit him best!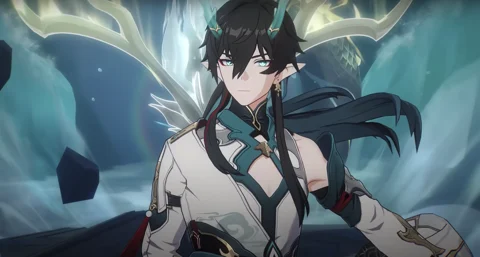 Time really seems to fly by even faster in Honkai Star Rail than it does in real life! Weren't we all super excited about Kafka's release just a few days ago?… or was it last month? Well, that doesn't matter, since the new version 1.3 is already waiting around the corner!
In need of a new 5-Star Light Cone for your Kafka? Maybe the new Herta Light Cone would be a perfect fit:

As we all know, a new version always means not only new events, there will also be a couple new characters! One of them will be Dan Heng IL, who seems to be a new DPS unit. Want to find out how to build him? Then check out the following guide!
Let the pre-farm begin!
Honkai Star Rail: Dan Heng IL – Best Build, Light Cones & Team Comp

The new and upgraded Dan Heng IL will probably be in the second half of version 1.3 banner. He is a 5-Star character who follows the path of The Destruction and deals Imaginary damage!
Do you prefer Dan Heng in is first form? Maybe this Dan Heng Plush makes you miss him a little less.
We could already see a lot of his kit and gameplay in one of the newest boss fights, where he helps us out from time to time with his ultimate! However, if you want your own Dan Heng IL, you should definitely check out how to build him!
Definitely check out the most recent Star Rail trailer if you are still unsure if you should get him or Fu Xuan:
Both look super awesome, I really can't decide on who to pull for …
Let's get into his build first, shall we?

Dan Heng IL best Build
A complete build in Honkai Star Rail is made off of either one 4-piece set and one 2-piece set or three 2-piece sets. In total each unit wears six Relics. Preferably, you would always tend to use a 4-piece set, however sometimes there is not as good of an option, which makes the second method valid as well.
Dan Heng is one of them, since the 4-piece Wastlander of Banditry Desert effect is not really useable on him. You could go with this build instead:
Relic Set Combination #1
There really is one option for Dan Heng IL right now:
2-piece: Wastlander of Banditry Desert
2-piece: Musketeer of Wild Wheat
2-piece: Rutilant Arena
One day there will maybe be a better fitting set dedicated to Dan Heng than now, however, this is the option we have to deal with for now at least!
Best Stats for Dan Heng IL
The right stats are just as critical as the correct set. Prioritize Dan Heng IL's relic stats as followed:
Body: CRIT Rate / CRIT DMG
Boots: ATK%
Planar Sphere: Imaginary DMG
Link Rope: ATK%
Sub-Stats: CRIT Rate / DMG → ATK% →SPD →HP%
Dan Heng IL Light Cones
When it comes to Dan Heng IL's Light Cones, there are several options, some are more affordable than other, but there should be something for every budget!
Let's take a look at the 5-Star options first!
To all fellow Cosplayers: If you are ready for a new challenge, perhaps try a Kafka cosplay! I have the perfect sword for you right here!

5-Star Light Cones

It's needless to say, that his signature Light Cone "Brighter Than the Sun" is by far his best in slot option! It provides him all the stats he would ever need, however it comes at its cost!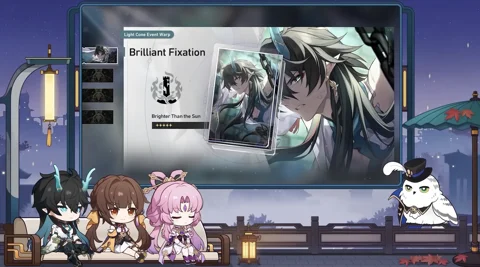 Brighter Than the Sun has the following effect:
Increases the wearer's CRIT Rate by 18%. When the wearer uses their Basic ATK, they will gain 1 stack of Dragon's Call for 2 turns. Each stack of Dragon's Call increases the wearer's ATK by 18% and Energy Regeneration Rate by 6%. Dragon's Call can be stacked up to 2 times. (S1)
Next to his very own Light Cone, the weapon, which belongs to Blade does also fit him pretty well! It is called "The Unreachable Side" and is also a 5-Star Light Cone.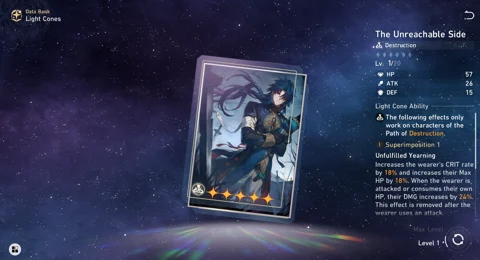 The Unreachable Side has the following effect:
Increase the wearer's CRIT Rate and Max HP by 18%. After the wearer is attacked or consumes their own HP, increases the wearer's DMG by 24%. This effect is dispelled after the user uses an attack. (S1)
4-Star Light Cone
if you prefer a more free-to-play friendly weapon, "Under the Blue Sky" is a perfect fit for you! Especially if you lack CRIT Rate, you should use this weapon!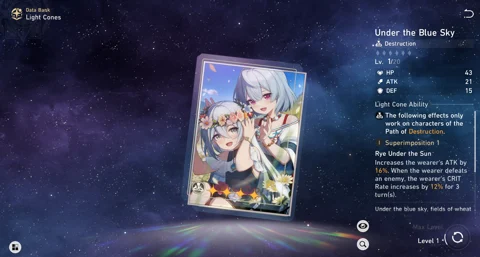 Under the Blue Sky has the following effect:
Increases the wearer's ATK by 16%. When the wearer defeats an enemy, the wearer's CRIT Rate increases by 12% for 3 turn(s). (S1)
Dan Heng IL's Team Comp
Since Dan Heng IL is an Imaginary type character, we can finally build mono Imaginary team comps! This could be super strong later on when trying to clear end game content.

Not THAT easy so build, I know …
Especially with Silver Wolf, these mono element comps work exceptionally well! If you want to make this comp a little more f2p friendly, you can switch out Luocha for Natasha for example! I would definitely play this team, if I just had ANY of these characters …
This sums up our guide for Dan Heng IL! We wish you the best of luck, when his banner comes up, and it's time to spend some Stellar Jades!
This article contains affiliate links which are marked with [shopping symbol]. These links can provide a small commission for us under certain conditions. This never affects the products price for you.