The day has finally come: Kafka's limited banner is about to go live! The flagship character of Honkai Star Rail and the most anticipated banner is now within reach and many players are not even considering skipping her. Therefore, let's take a closer look at the entire lineup and at how valuable the banner really is.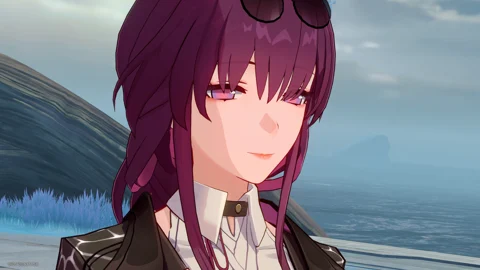 There are just too many really cool and exciting characters in Honkai Star Rail already, and it gets more and more of challenge to stock up on additional Stellar Jades without spending real money. To make matters worse, the first half of version 1.2 is already over, and we all know what that means: It's Kafka time!
Since many players will most definitely get at least one copy of her, there is no way around pulling at least some 4-Star characters on said banner as well. So be sure of what you get yourself into, when pulling for our favorite Stellaron Hunter!
Good luck to all Kafka-Wanters!
Honkai Star Rail: Kafka Banner Line-Up

Kafka's limited banner will be in the second phase of version 1.2, right after Blade got his much deserved screen time. The banner will start on August 9, 2023, and will run until August 29.
Kafka: The Professional Beauty
It's been around four months since Honkai Star Rail's gates opened to the world after its global release on April 26, 2023. Ever since the first few moments of the game, an overwhelming amount of players found their favorite character right away, being Kafka.
Do you plan on pulling for Kafka? Then also consider getting a Kafka Scroll Poster to give your room a little Star Rail make-over!
The charismatic Stellaron Hunter, who found us unconsciously in Herta's Space Station, knows exactly how to wrap the entire community around her finger in no time. Her design looks spotless and well-thought. In addition, it also matches her mysterious personality more than perfect, which left a lasting impression in many players minds.
Kafka's Banner

It's to no one's surprise, that her banner will probably be one of the most popular ones in HoYoverse's history!
Let's take a close look at the entire banner lineup of the second half of version 1.2: Nessun Dorma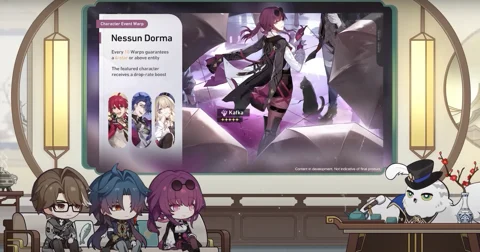 The star of the show is without a doubt Kafka herself. She will be a Lightning 5-Star character, who belongs to the path of The Nihility. As mentioned earlier, she is part of the Stellaron Hunters, which makes Silver Wolf and Blade friends of her. (As far as Kafka knows what a friend is I guess.)

"A member of the Stellaron Hunters. A dashing, collected, and professional beauty. Used the enchantment of Spirit Whisper to set up Trailblazer to absorb the Stellaron. Her hobby is shopping for and organizing her collection of coats." – Silver Wolf

She will definitely be an incredibly strong character. Her kit seems to have pretty cool and new features and her DoT heavy play style will certainly bring some variety to your team! Undoubtedly a recommendation if you are still looking for a new DPS!
Not sure how to build her? Then check out this Kafka guide:
4-Star Lineup
However, the 4-Stars of the banner should not be underestimated either and there is even a new one for us to play around with. A pretty interesting mixture I would say!
The featured 4-Stars will be:
Luka will be the newest addition to the 4-Star pool in version 1.2. He is a member of "Wildfire" and is a renowned cage fighter with a martial arts prowess. His optimism has led him to bring hope for other people.
Luka will be a Physical character, who follows the path of The Nihility, just like Kafka does!
Sampo is merchant who freely roams between the Overworld and the Underworld. He acts like he is everyone's friend, is enthusiastically humorous, and is good at bantering.
Sampo also belongs to the path of The Nihility, but deals Wind damage instead.
Serval was given to us for free through the mail as a community reward. She is a mechanic who runs the Neverwinter Workshop, a rock 'n' roll performance workshop in Belobog as a hobby. Gepard is her older brother, who she is really close to.
Serval is a Lightning character, who belongs to the path of The Erudition.
Everyone needs a Pom-Pom in their lives!

All the 4-Stars are pretty strong characters, however they aren't used particularly often, especially Sampo. You should definitely give him a chance if you get some Eidolons for him when pulling for Kafka.
We wish you the best of luckfor your Kafka pulls, may the gatcha luck be with you!

This article contains affiliate links which are marked with [shopping symbol]. These links can provide a small commission for us under certain conditions. This never affects the products price for you.