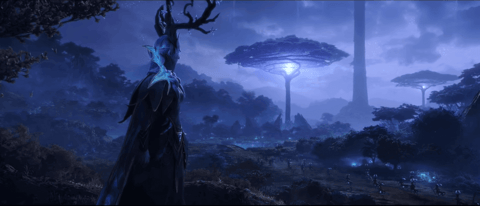 World of Warcraft: Shadowlands' new launch trailer 'Beyond the Veil' hit our computer screens with a pretty satisfying thud. With the release just around the corner, the new trailer is certain to put WoW fans on the edge of their seats – impatient to jump into the expansion.
Shadowlands will be out on November 23, featuring five new zones and a multitude of new features, including Covenant's Sanctum, where you can choose your own path in a variety of quests. Despite October's delay, Shadowlands has us positively giddy with excitement, and there will be many sleepless nights ahead!
The new cinematic trailer opens with a voice telling us that "Beyond the veil lies the Shadowlands, where every soul has its place". The trailer then zooms over a floating city in the clouds, before cutting between each of the zones featured in Shadowlands. It is, unsurprisingly, a pretty epic CG trailer, ending with an evil voice echoing a somewhat... demonic... version of the opening line.

Top 5 WoW NPCs With Which Blizzard Commemorates People
View gallery
There are five new zones in Shadowlands: Bastian, Ardenweald, Maldraxxus, Revendreth and The Maw. There is also a new player hub called Oribos – an eternal city (the cool cloud city). If we may say so ourselves: It. Looks. Awesome!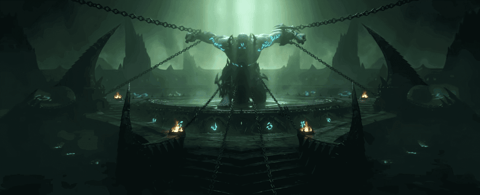 In our next adventure in Azeroth, we will discover a whole new set of quests and features, as we fight to save the universe. Blizzard is introducing a new level cap of 60 and claim to make leveling faster. We like it: It means we'll be all geared out in the Shadowlands in no time. A change, that is welcome for everyone that was as annoyed as us with the super-slow grind of the past.

Two years on from 2018's Battle for Azeroth, WoW's latest expansion has a lot to prove, but everything we've seen certainly seems to be heading in the right direction. The Covenants seem like a super interesting addition, and we can't wait to flex some of the new fashion options and go dungeon raiding once more!
READ MORE on World of Warcraft Shadowlands:
For more World of Warcraft news, esports content and general gaming coverage, stick to EarlyGame. Will you be picking up Shadowlands? Let us know on Twitter or Facebook!