The Simpsons: Hit and Run has been remade on Unreal Engine 5 and looks absolutely gorgeous in a recently-released video. Even the original developers are in awe of the game's new look. Let's take a look at the recent Simpsons: Hit and Run Unreal Engine 5 remake!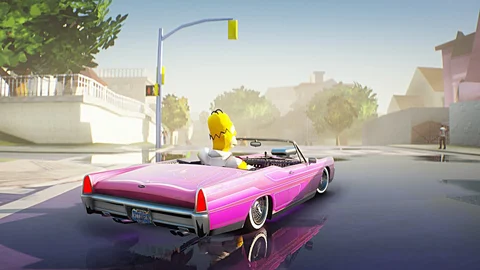 [Update, June 28, 2022]
Every one of you who got excited about this announcement: stop. Immediately. There, I warned you.
Recently, Reubs returned with a clip. It's his Simpsons: Hit and Run remake, but open-world, and it looks fantastic. Have a look:
Now, you might ask: why can't I get excited? This looks so cool, I will for sure download it!
Well, there's the problem. Reubs confirmed that he will not release this game. This is more of a passion project to him, he's doing this to showcase his abilities... nothing more. Reubs literally said this himself:
This is a fan remake for entertainment purposes, this game will never be available to download. Please do not pester my poor discord mods for a download link!
So guys, this is the perfect example of "look, don't touch". Sorry about that.
[Original Article]
Can you believe that it has almost been two decades since The Simpsons: Hit and Run hit our PS2, Xbox (original!) and GameCube screens back in 2003? It does not feel that long ago, yet the time has most-certainly passed. The classic GTA-clone tasked Homer and the Gang to solve an Alien conspiracy in Springfield. It was wild stuff, the gameplay was unbelievably fun, and many-a-day was spent causing chaos whilst sitting side-by-side with your friends on the couch.
Honestly, if you can't remember this absolute banger of a classic, then you really missed out, and considering the success of this insane Simpsons: Hit and Run Unreal Engine 5 remaster, maybe we could be seeing a proper remake coming soon. Check out the video:
What's even more impressive than the Simpsons: Hit and Run Unreal Engine 5 remake itself is that Reubs did this in only a week. A week! That's seven days, and the game looks better than most Nintendo Switch games do today. That's pretty freaking crazy, if you ask me.
It was so impressive, in fact, that lead designer on the original Simpsons: Hit and Run, Joe McGinn, took to YouTube to comment...
Amazing what you accomplished! Really gives a taste of what a full modern remaster could be. Impressive work!
Now that's high praise! If a developer gave me that kind of compliment, I sure-as-hell would be frothin' at the mouth. Hell yes, bro! How can we play it? Well... that's not such good news.
Due to copyright concerns, the playable version of this Simpsons: Hit and Run Unreal Engine 5 Remake has been removed from the internet. Luckily, though, the YouTube video of his incredible achievement is still up, and you can see a remade Hit and Run in all of its glory there. Simply check out the video above!
Honestly, guys, if this becomes a reality... I'm set. I'll quit my job. My video game dreams will have been fulfilled, and I can head off back down under to read books, ride Kangaroos, and all that bollocks. Literally no other video game could compare to a modern Simpsons Hit and Run, and not video ever will. Okay, I'm done now.
Read More: