The Elder Scrolls IV: Oblivion is getting a makeover from a volunteer-based modding group called TESRenewal. Dubbed 'Skyblivion', the project looks super cool and if successful, will give players the opportunity to re-experience the role-playing classic in new-found glory!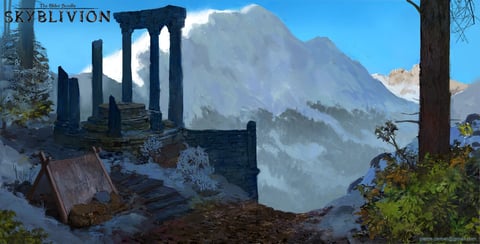 Skyblivion is not some run-of-the-mill release. It is a passion project built by a dedicated group of game modders. They want to want nothing more than for you to be able to re-experience Oblivion, whilst you wait for The Elder Scrolls: VI. This is fantastic because it doesn't look like the sequel to 2011's Skyrim will release for a couple of years at least.
Check out their trailer! It is super cool:
As is made clear on their website, this is a pretty dedicated group of modders, all of whom are unbelievably skilled volunteers! The project aims to basically port the entirety of Oblivion into the Elder Scrolls V: Skyrim. Here's their statement:
"Skyblivion is a volunteer-based project by the TESRenewal modding group. We aim to bring the Elder Scrolls IV: Oblivion to a new generation of gamers and re-introduce it to long time fans of the series. We are currently in the process of porting and rebuilding Cyrodiil along with all of its quests, locations and characters into Skyrim and Skyrim: Special Edition."
Well, this is some damn-great dedication, if we do say so ourselves! In the following video, they take us through some amazing work they have done rebuilding Oblivion for modern audiences:
This has been a long-term project, coming from humble beginnings back in 2012. The team has grown to more than 50 people, and yes... sadly there is no release date yet. That's okay, though because it's being built with love and affection, and we absolutely can't wait to jump in and replay this fantastic game.
The Elder Scrolls IV: Oblivion is a classic RPG, and one of the best games of the 2000s. If you are an old player, or even a new, this mod will be fantastic to check out, once the team over at TESRenewal have finished up with it!
For anyone interested in getting involved, who has development skills, check out their website, and their discord, to sign up and be part of the project yourself! As for us, we're going to go back and jump into Skyrim for the thousandth time...
READ MORE:
For more gaming and esports news, stick to EarlyGame. Get in touch with us on Discord, or engaged through our Twitter and Facebook. Remember to check out our YouTube channel!