Nobody wants a bad review for their game, but getting Steam accounts restricted just for liking negative reviews is excessive! Seems like we have to be more careful with our opinions from now on.
Most of us use Steam on a regular basis to grind our favorite games or browse through the new releases. One of them is a game called "Warlander" which you can download on Steam for free since January 2023. With a rather balanced distribution of positive and negative reviews, the game seems more or less solid. But one of the reviews seems to have offended Steam support in particular.
Steams Way Of Dealing With Reviews
The comment section in Steam is an important tool for gamers to share their experiences. And even if you don't write a review yourself, you can still respond to other reviews.
Steam will ask if the review you read was helpful, and then you have four options to answer with: yes, no, funny, and you can give it an award. This is really essential since some people write inappropriate comments about games or their publishers.
But what review was so evil that it got all 2,439 accounts that liked the comment suspended?
It was from a user named "FREEDOMS117", who made the controversial comment not about the game itself, but about its anti-cheat system, calling it "suspicious". He furthermore claimed that "it maintains running even when the game is closed, including tray icons". The review got deleted after several weeks because a moderator categorized the negative comment as "attempting to scam users or other violations of Steam's Rules & Guidelines".
And it seems like he wasn't the only one experiencing issues with the game's anti-cheat system, since his comment on how to properly uninstall it, got 2,439 thumbs up. People liked his detailed explanation and were thanking him for it, not knowing Steam would soon restrict their profiles as well.
FREEDOMS117's Steam account was then restricted for 30 days, making it impossible for him and all the people who liked his post, to write new reviews or respond to others. However, their ability to play games was not affected.

The Solution To This Misunderstanding

In the end, it just turns out to be a big misunderstanding, since one of the Steam moderators interpreted the comment a little differently. It was assumed that the review explains how to completely bypass an anti-cheat program, and trying to use cheats, which would very well violate Steam's guidelines. After a closer look, however, it turned out that this assumption was not correct, whereupon all affected accounts were given all their rights back.
TheSteam supports answer after clearing the case: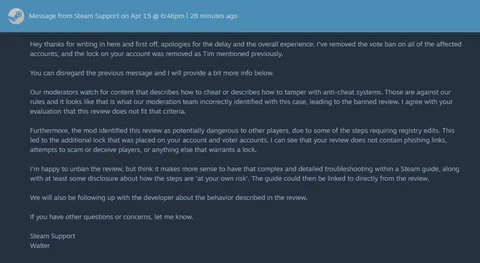 Warlander's publisher Plaion reported that there really was "a bug where Sentry fails to unregister the icon displayed in the task tray when Sentry Anti-Cheat Task Tray closes, which leaves the icon displayed and makes it appear that Sentry is still running." They clarified that they did not collect any personal information, since the game nor the anti-cheat system need them to properly work.
We are glad to see that everything worked out in the end and no one's account got suspended for a long time. Hopefully Steam handles reviews a bit more carefully next time!
This article contains affiliate links which are marked with [shopping symbol]. These links can provide a small commission for us under certain conditions. This never affects the products price for you.