Want to get a quick and correct answer for Weaver? Check out this article and discover today's Weaver for July 22. But before, pay attention to hints that can make you reach an answer yourself.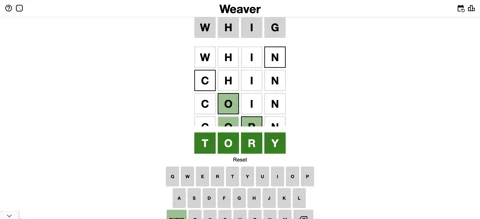 Sometimes, it might be extremely difficult to dig deep enough in your mind and get the correct answer for Weaver. Not only this video game, but such an issue is also common to other Word games like Semantle or Octordle. And we are here to help you. In this article, you can find hints and the correct solution for Weaver on July 22.
We will first give you some hints and the solution for today's Weaver. Further down in the article, we share some general Weaver advice to help you each day!

Today's Weaver Answer – Hints & Solution
Before we tell you the correct answer, here are some clues that can make you reach it yourself. Simply give yourself another try with these tips in mind.
A male name that can also be spelt with a K
Grain commonly used in cooking and as animal feed
Located on the face, below the mouth, and above the neck
We won't say more! Now look away if you don't want anything spoiled!
The Weaver answer for today is here. It wasn't a tough not, so we hope it didn't drive you mad and that you were able to solve it.
Start your Amazon Prime 30-day free trial membership now!
We all hope that this guide was extremely helpful! Should you have any trouble with completing Waver tomorrow or any other day, come back to this article for the correct answer. You'll never lose a hot streak if you bookmark this page and check it regularly.
Weaver Answer – General Tips
Completing Weaver is a skill that can be easily trained over time. Here are some tips that can help you regardless of the actual answer.
Engage with other players to exchange valuable tips and learn new strategies
Play the game regularly to improve your skills
Try to create words rhythmic to existing ones on the board
Focus on the most frequently-used letters
Rely on hints if you don't want to get the answer spoiled
These tips can be helpful, but they won't make a difference unless you consistently play the game. So, play Weaver daily and come back to Earylgame once you need the correct answer for Word Games.
This article contains affiliate links which are marked with [shopping symbol]. These links can provide a small commission for us under certain conditions. This never affects the products price for you.