Koei Tecmo released the Wo Long: Fallen Dynasty roadmap for 2023. The map itself contains some interesting collaborations and paid DLC content.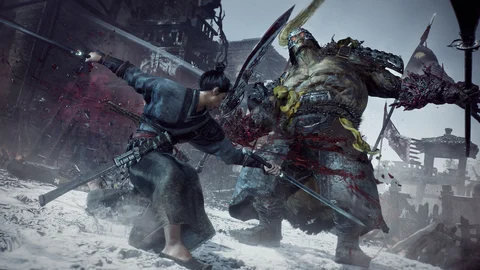 With the release from Wo Long: Fallen Dynasty earlier this year, many people had the chance of playing the protagonist in a fictionalized version of the fall of the Han Dynasty. With the punishing parry and reflect-system, we had to battle mythological creatures corrupted by Qi.
Some people enjoyed playing the game, while others quit not just because of the game's difficulty but due to technical issues on their PCs. These problems were very frustrating, especially after experiencing similar issues with previous AAA releases.

However, as time passed, some players managed to complete the game and move forward. Now, publisher Koei Tecmo has released the first "Director's Letter," where producer and director Masakazu Hirayama shares and discusses the roadmap for 2023.
Wo Long Fallen Dynasty: Roadmap 2023 Includes Collabs & DLCs Among Other Things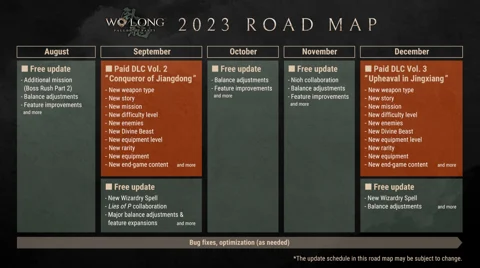 The devs will provide you with free updates and another two paid DLCs as well. Let's check out the content the game will receive in the upcoming weeks and months!
Wo Long Fallen Dynasty: Free Update
Most of the time the free updates include Balance adjustments and Feature improvement throughout the year, but some expectations can be seen in the Roadmap 2023 picture:
August – Additional missions and challenges through the Boss Rush mode Part 2 – Providing higher difficulty missions focusing on bosses that did not appear in the first added Boss Rush.
September – Major adjustments to balance and strategy are coming, with a focus on improving the Action and the RPG elements within the game, as well as the user interface to make each player's experience unique. Additionally, there will be a collaboration with Lies of P, though specific details are yet to be revealed. However, it's confirmed that this content will be distinct from the previous Naraka: Bladepoint collaboration.
November – Just like in the September section, you will get a Nioh collaboration, where the details are still shrouded in mystery.
Dezember – In addition to the regular game adjustments, the devs will give you a new Wizardry Spell, just like they will do in the September update.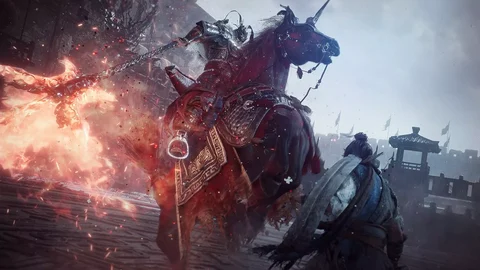 Wo Long Fallen Dynasty: Next Paid DLCs
The DLC Vol 2. is called "Conqueror of Jiangdong" and DLC Vol 3. "Upheaval in Jingxiang". They bring new weapon types, extra story content, and missions, offering plenty of fresh experiences. Whether you're new to the game or experienced, there's still much to discover.
Let's see what's included:
Another difficulty level
More enemies and Divine Beasts
New equipment, equipment level and rarity
Additional end-game content
With the Wo Long: Fallen Dynasty Season Pass you'll get the DLC Vol. 1, which got released June, 29, and the two upcoming ones as well.
Wo Long: Fallen Dynasty is available for PC (Steam, Microsoft Store and Xbox Game Pass), PlayStation 4, PlayStation 5, Xbox One and Xbox Series X|S.
This article contains affiliate links which are marked with [shopping symbol]. These links can provide a small commission for us under certain conditions. This never affects the products price for you.