Movie director Zack Snyder teased that he's working on a video game adaptation of his upcoming sci-fi movie Rebel Moon, which will include RPG elements and be of "ridiculous scale".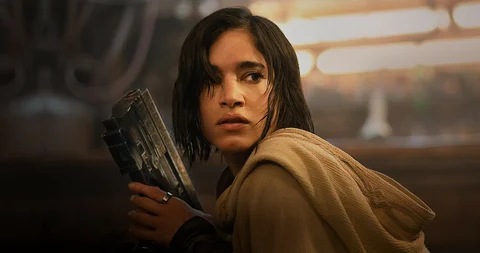 Zack Snyder's next movie, Rebel Moon, is getting a video game adaptation, and it might be a lot bigger than we can imagine. For those of you who need a refresher on who Snyder even is, he's a film director and producer known for his visual flair, incredible action sequences, and sense of scale.

Some have noted (or criticized) that his films sometimes look and feel like video games. A few perfect examples of this are Sucker Punch and 300, and he also directed Justice League and Man of Steel, among others.

In an interview with the Nerd Queens Podcast, he now revealed that Rebel Moon will not only be a big movie, but an animated series and a full-fledged RPG video game are also planned.
What Rebel Moon Is About
The new Netflix movie Rebel Moon is inspired by Star Wars and director Akira Kurosawa. In the story of the blockbuster, which will ideally be expanded into a large universe, a small colony is harassed by the terrible tyrant Balisarius.
To finally fight back, young Kora sets out to find brave warriors on neighboring planets to free the colony, but also the entire galaxy, from the tyranny of evil. Any help is welcome, even the one of the battle robot Jimmy (originally voiced by Anthony Hopkins).

Since many are reluctant to go to war voluntarily, Kora has to use allof her persuasive skills. After all, this is the last chance to put a stop to the evil.

Yup, sounds quite a bit like a typical video game.

By the way, the main role of Kora is played by Sofia Boutella. Charlie Hunnam can also be seen at her side.

Rebel Moon Will Get Its Own RPG Video Game
Zack Snyder has confirmed that a video game based on Rebel Moon is in the works. In the interview with The Nerd Queens, Snyder talked about being involved in the development of a new RPG of the movie. He described it as "huge" and "all-encompassing" and revealed that he has always wanted to make an RPG.
While he did not say who is working on it or on which platforms it will be available, he claimed that the scope is "of ridiculous scale."
When you hear something like that, there are really only a few examples that come to mind. Bethesda RPGs, Elder Scrolls, Fallout, Starfield, or something like Elden Ring. All huge games developed by talented teams over a period of many years. If Snyder really has a big RPG planned, hopefully it's with a damn good game developer behind it.

Either way, Snyder has given the impression that this project is still a long way off, but it's definitely something that has caught our interest.
Rebel Moon will be released on Netflix on December 22, 2023. Perhaps more information will come to light by then.

This article contains affiliate links which are marked with [shopping symbol]. These links can provide a small commission for us under certain conditions. This never affects the products price for you.