To successfully complete the quest The Clues To The Sky in Zelda Tears of the Kingdom, you must find King Dorephan. He is hiding behind a hidden waterfall and we will show you where it is located.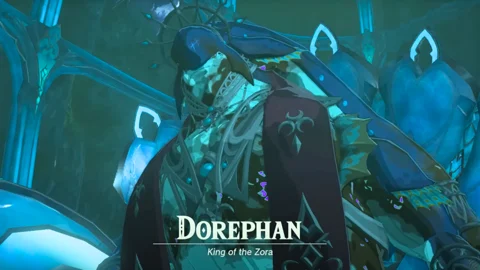 In Zelda: Tears of the Kingdom, the once vibrant Zora domain has fallen into chaos. Its pristine waters are now tainted with sludge, posing a severe threat to its inhabitants. As Prince Sidon battles the threat, the responsibility falls upon you to seek out King Dorephan and put an end to this. But King Dorephan's location happens to be very well hidden. If you're stuck on finding him, we got you. This article will tell you all about King Dorephan's location and how to get there.
To get on King Dorephan's trail, you must complete the early sections of the game and unlock the Regional Phenomena quest. Head east to Zora's Domain and follow the storyline until you meet Prince Sidon. Finally, you'll get a quest where you have to eavesdrop on Zora's children, who will give you rather obscure clues about the king's location, but that's okay! We will explain exactly how to get there.
How To Find King Dorephan & The Hidden Waterfall Entry

In the quest The Clues To The Sky, you will learn that King Dorephan is located somewhere in a hidden cave behind a waterfall between the Zora's Domain and Ploymus Mountain. Then you can check out all the waterfalls... or take a peek at the map below: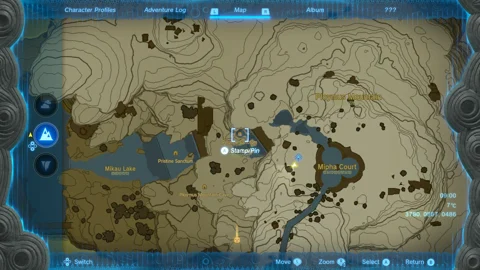 To proceed, go to Lulu Lake and face the waterfall right in front of you. Instead of going behind it, look to the left side where you'll find a small opening. Simply pass through there to reach the Pristine Sanctum.
Alternatively, you can also head to the waterfall below to enter the Pristine Sanctum. But to make this work, you must not wear the Zora armor when swimming or flying through the waterfall, since Link will automatically swim up the waterfall if you wear it, which will prevent you from reaching the cave.
We recommend the first solution, since it's just the easier way to proceed.
With this new amiibo figure of Link, you'll be able to unlock some really nice items and a new paraglider design in Zelda: Tears of the Kingdom. Check it out on Amazon!
In the Pristine Sanctum you will meet King Dorephan, who will give you some information and hand you five King's Scale along with another quest marker for this story line. Your next stop is to visit Prince Sidon at Mipha Court.

That would be it! If you found this Zelda TotK guide useful, check out our other Zelda Tears of the Kingdom guides!
This article contains affiliate links which are marked with [shopping symbol]. These links can provide a small commission for us under certain conditions. This never affects the products price for you.