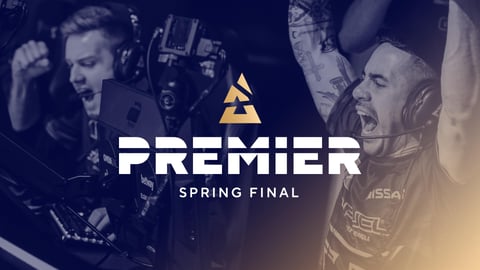 Welcome to our BLAST Premier Spring Grand Finals Europe coverage hub! In this article, we will tackle all things happening in and around the event as they happen, every day from the start on June 15 to the finish on June 21.
Don't forget to check out our LIVE: BLAST Premier Spring Grand Finals North America Coverage Hub as well!

JUNE 21, 2020
Complexity complete the miracle
Whoever put money on Complexity Gaming winning BLAST Premier Spring Grand Finals Europe must be feeling good about themselves. The miraculous run to the title was capped off with a remarkable turnaround in the final vs. Team Vitality.
The French stomped the eventual champions 16-2 on Vertigo and reached map point on Mirage after coming back from 13-7 down. So close, yet so far will be Vitality's slogan for the time being, however, as Complexity dodged that Mirage 30th round bullet, leveled the score by taking the overtime 4-1 and produced a rock-solid Nuke to affirm their status as BLAST Premier Spring European champions. Congratulations!
Team Vitality 1 - 2 Complexity Gaming
THE SOUNDS OF VICTORY! @Complexity #BLASTPremier | @eposaudiogaming pic.twitter.com/67Bk5sjCvr

— BLAST Premier (@BLASTPremier) June 21, 2020
Vitality through to the final over FaZe
Team Vitality and FaZe Clan played just two maps, but they felt like three. The French needed to dig deep in order to get out of both Nuke and Dust2 with the Ws, but to an extent, FaZe have themselves to blame.
Nuke was steadily going towards a Vitality win in regulation before a surprising 6-1 run on the offense granted FaZe a chance to steal the map in OT. T-side was not as favorable to NiKo's crew in the added period, however, as they lost all three rounds before finally losing when the sides were switched - 15-19.
Meanwhile, for @FaZeClan it probably feels something like this.#BLASTPremier | https://t.co/mKPHu9UP7D https://t.co/3x0yHN9ESO pic.twitter.com/cYL91yzpcI

— BLAST Premier (@BLASTPremier) June 21, 2020
While Nuke was an unexpected and ultimately unrealized opportunity, Dust2 was all there for FaZe to take. Yet, they didn't. Vitality won five rounds in a row to overcome a 14-11 deficit and avoid the dreaded uncertainty of a third map, once again ending FaZe's tournament before the Grand Final.
FaZe Clan 0 - 2 Team Vitality
JUNE 20, 2020
Complexity stun FaZe Clan, Na'Vi are out
Just when things were starting to look up for FaZe Clan... In a clash of international rosters in which FaZe were heavily favored, they lost 0-2 to Complexity Gaming. The latter have been the undeniable surprise of the week and will have a chance to complete one of the more unanticipated title runs in recent memory when they return for the Grand Final tomorrow.
#VForVictory#BLASTPremier pic.twitter.com/mjeTfvwl2A

— BLAST Premier (@BLASTPremier) June 20, 2020
The lower bracket titan clash between s1mple and ZywOo was oversahdowed by the latter's teammate Dan "apEX" Madesclaire. The veteran rifler amassed 64 kills - by far the most in the server, to aid Vitality's comeback vs. Natus Vincere. This match reminisced Na'Vi's loss to Complexity a couple of days ago - great first map and nothing to back it up afterwards. At least this time it was a collective losing effort and not a 1v9 s1mple struggle.
FaZe Clan 0 - 2 Complexity Gaming
Natus Vincere 1 - 2 Team Vitality
JUNE 19, 2020
G2, Ninjas in Pyjamas say goodbye
G2 Esports and Ninjas in Pyjamas are the second pair of teams to bow out of BLAST Premier Spring Grand Finals Europe. Ironically, these two were the teams that eliminated ENCE Esports and OG a couple of days ago. Karma is real, yo.
G2 did what they could to withstand Natus Vincere's barrage, but when you're facing s1mple, doing so becomes that much more difficult. The phenomenon chimed in with a 'lax 71 kills en route to a 2-1 victory. Denis "electronic" Sharipov, who played catastrophycally bad yesterday, picked himself up with 59 frags of his own - more than any G2 player.
Ninjas in Pyjamas were facing the other phenomenon - Mathieu "ZywOo" Herbaut, but it was the veteran Richard "shox" Papillon that led the Vitality squadron to glory. Shoxie finished with 52 kills in just two maps. ZywOo also did his thing to accumulate 40, guaranteeing that Vitality will face no real problems on the day - 16-9; 16-13.
Natus Vincere 2 - 1 G2 Esports
Team Vitality 2 - 0 Ninjas in Pyjamas
JUNE 18, 2020
s1mple plays well, Natus Vincere lose
How many times have you heard that phrase? S1mple was left hanging by his teammates in the match vs. Complexity Gaming. The Ukrainian superstar was the top fragger on the server, but none of his teammates crossed the 40-kill mark, in three maps, which can already paint the picture pretty well.
By comparison, all five CoL members finished with 40+ in the kill department, which once again proves that team effort is universally better than one or two members shining.
All three maps were a boring viewing for the neutrals as one team heavily dominated. Na'Vi did their damage on Nuke. That 16-5 victory was followed by two abysmal performances on Dust2 and Mirage - 8-16; 3-16. Despite this loss, s1mple and co. are still alive in the tournament. They'll return for their first lower bracket game tomorrow.
Victory celebration! #COLWIN #WeAreCOL pic.twitter.com/7gZbPPbeU0

— Complexity Gaming (@Complexity) June 18, 2020
FaZe make their breakthrough
FaZe Clan have had a year of disappointments so far. The team would usually go through group stages effortlessly before faltering in the playoffs. No more! Team captain NiKo led by example by topping the kill charts against Vitality in an impressive 2-0 win that pushes FaZe one step closer to the trophy. The French meanwhile will have to fight for their skin versus Natus Vincere tomorrow.
Natus Vincere 1 - 2 Complexity Gaming
FaZe Clan 2 - 0 Team Vitality
JUNE 17, 2020
ENCE, OG go out with a whimper
The lower bracket wasn't kind to ENCE and OG. The pair got eliminated by G2 Esports and Ninjas in Pyjamas, respectively, and we can't say they put up much of a resistance.
This rings especially true for OG. The international squad won a total of 12 rounds - six on each map, against NiP. OG were the underdogs here, but they could and should have performed better on the day for sure.
ENCE fared better against G2, even winning a map. In the other two maps, though, the result was a copy of the other game - 16-6; 16-6. Not much of a contest.
We will be back to the upper bracket tomorrow. Natus Vincere - Complexity Gaming and FaZe Clan - Team Vitality are on the schedule.
Ninjas in Pyjamas 2 - 0 OG
G2 Esports 2 - 1 ENCE Esports
JUNE 16, 2020
electronic outshines s1mple in first playoff game
Natus Vincere will be happy to know that winning huge games is possible even when Oleksandr "s1mple" Kostyliev isn't playing out of his mind. The Ukrainian star still performed well and finished with a 46-31 K/D ratio but his teammate Denis "electronic" Sharipov was the real star of the day.
The Russian rifler tore Ninjas in Pyjamas apart for 64 kills on Mirage and Nuke, disallowing the Swedes a chance at a third map. Nicolas "Plopski" Gonzalez Zamora was NiP's only good performer in the match - something that needs to change if they wish to avoid a quick 0-2 exit from BLAST Premier Spring Grand Finals Europe.
010010000110010100100111011100110010000001100001001000000110001001100101011000010111001101110100 pic.twitter.com/IZ3w9oX0TS

— NAVI (@natusvincere) June 16, 2020
Complexity send OG to lower bracket
The last match of the first round put Complexity Gaming and OG against one another. Neither team is among the favorites at the Grand Finals and that showed during the game with a lot of nervy mistakes creeping into the server.
As both squads would be considered underdogs in pretty much every matchup going ahead, they understood what's at stake here. But only Complexity managed to put that understanding into effect.
We mentioned that nerves played a factor and that was reflected by both teams losing their own map pick convincingly. This brought us to a rare Nuke decider. OG's defense had a nightmarish 0-9 start which doomed them. Complexity grabbed the necessary 7 rounds before OG could mount a comeback and that was all she wrote for Nathan "NBK" Schmitt and co.
A chance at redemption against NiP will arrive tomorrow, right after one out of G2 and ENCE is sentenced to elimination.
Natus Vincere 2 - 0 Ninjas in Pyjamas
OG 1 - 2 Complexity Gaming
JUNE 15, 2020
Vitality edge out G2 in French derby
Team Vitality picked up the first W of the tournament by beating fellow Frenchmen G2 Esports 2-0. Inferno is barely worth mentioning, but Mirage turned into a memorable affair that produced the play of the day courtesy of Audric 'JaCkz' Jug and a double overtime Vitality win. Something for everyone, though we're sure JaCkz would accept an exchange in a heartbeat.
GERJOGFMIGFT4EWNOIG34QNBJUITRNT 3B<4AKNGF34QR

HE ALMOST DID IT AGAIN!!!!! @JACKZ_CSGO #BLASTPremier pic.twitter.com/A1dDd5AgNk

— BLAST Premier (@BLASTPremier) June 15, 2020
FaZe Clan's star power too much for ENCE
FaZe Clan's pair of stars Nikola "NiKo" Kovač and Håvard 'rain' Nygaard showed up on day 1. The Bosnian and the Norwegian racked up 70+ kills each to ensure the victory comes their way. ENCE fought well for the first two maps, losing Dust2 in the 30th round, then winning Mirage in overtime. Nuke was all FaZe however - a 16-5 scoreline more than fitting to the quality of Counter-Strike we saw from each side.
The winners and losers of today's games will play each other next in the upper and lower bracket, respectively. Before that happens, though, we will see the remaining four teams go into action. Natus Vincere take on Ninjas in Pyjamas, Complexity Gaming play OG. All of that is on tomorrow's menu.
Team Vitality 2 - 0 G2 Esports
FaZe Clan 2 - 1 ENCE Esports
JUNE 14, 2020
What is BLAST Premier Spring Grand Finals?
The Grand Finals are the final venue on which the BLAST Premier Spring champion(s) will be crowned. It follows the BLAST Premier Spring Showdown and just like it, it is split into two regions - Europe and North America. What's at stake? The largest prize pool of the year so far and sweet, sweet BLAST Premier circuit points.
Here is how the money and BLAST Premier Circuit points are allocated:
Europe
1. $335,000/2400 points
2. $65,000/1200 points
3. $30,000/900 points
4. $20,000/600 points
5. $15,000/300 points
6. $15,000/300 points
7. $10,000/150 points
8. $10,000/150 points
North America
1. $160,000/1600 points
2. $65,000/800 points
3. $15,000/600 points
4. $10,000/400 points
BLAST Premier Spring Grand Finals Europe
Eight teams will participate in the European leg of the Grand Finals. There will be no groups. We jump straight into a double-elimination system. All matches are in a Bo3 format. In addition to the cash and the BLAST Premier circuit points, the two finalists will also earn a place in the BLAST Global Finals.
Stay tuned for constant BLAST Premier Spring Grand Finals Europe updates within this article!