Okay, how often do we have to say it? Arcane is one of the best shows of 2021 and now it's been nominated a whopping 9 times by the Annie Awards.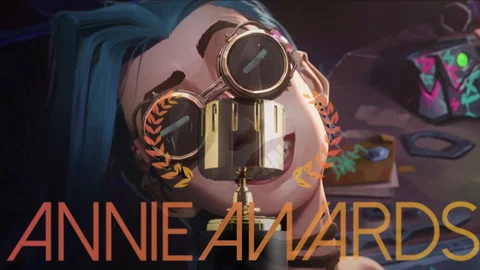 The Annie Awards are given out for masterpieces in animation. So, if you want to know which Disney flick to check out or which Netflix animated series to binge, you should definitely check out the nominated films and series for the Annie Awards!
The nominees for 2021 have been announced and while there were some surprises one show sure as hell wasn't and that was our favorite League of Legends series about our favorite sister – no not Morgana and Kayle – but Jinx and Vi in Arcane!

What Are the Annie Awards?
We all know how the Oscars basically treat animation as some freakshow right? Well, thankfully, animation has its own Oscars – the Annie Awards. Each year the International Animated Film Association gives out these awards, and this year it'll be the 49th time the awards take place.
In 2021 there will be awards for a total of 36 categories. The actual awards will take place on February 26, 2022 – so mark your calendars – but as you've read in the title, we already know the nominees and Arcane could pull off a Lord of the Rings: Return of the King à la 2003 – sorry for the boomer reference.

Arcane Nominations
Netflix is pulling off quite a feat with a total of 51 nominations. The platform has expanded their variety into the animation sector as well, especially with growing competition from Disney+.
While Netflix is the platform with the most nominations, Arcane ranks top amongst shows nominated with a whopping 9 nominations in these categories:

Best TV/Media - General Audience
Best FX - TV/Media

Best Character Animation - TV/Media
Best Character Design - TV/Media
Best Direction - TV/Media
Best Production Design - TV/Media
Best Storyboarding - TV/Media
Best Voice Acting - TV/Media

Best Writing - TV/Media
Episode 6 "When Those Walls Come Tumbling Down" has the most nominations. Also, episode 9 "The Monster You Created", so the final episode, and episode 8 "Oil and Water" are also highly regarded. So if you need some Arcane in your life again, check out those episodes.

Unfortunately, we are not part of the jury that is going to choose the eventual winners, but we're keeping our fingers crossed to see Arcane succeed after 6-years of hard work by Fortiche and Riot Games. So you've got until February 26, 2022, to re-watch Arcane at least 15 more times, so you know exactly what details those judges are judging on.