Caitlyn will be the first champion since Alistar back in 2015 to get a purely visual update – an ASU. When is the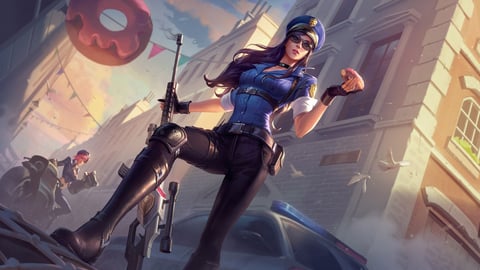 The first ASU is going to hit servers quite soon. Caitlyn, who is one of the older champions in League of Legends – and a character of the upcoming Netflix series Arcane – will be the first champion to get this type of update.
What is an ASU?
In September, in the League of Legends champion roadmap released by Riot, a type of champion update was teased that hadn't been done since 2015. This type of update is referred to as an ASU, which refers to an Art and Sustainability Update.
An ASU is a visual refresh that allows us to bring a champion closer to modern expectations (or sometimes better match their representation in other areas of our IP)
According to Riot, these types of updates are much cheaper and easier to do than a full on VGU – like the one Udyr is getting. ASU's will purely be visual according to Riot Games. While in September they couldn't name the champion, yet she has now been revealed to be none other than the sheriff of Piltover – Caitlyn!
When Will Caitlyn's ASU Go Live?
When the ASU update will hit live servers is not yet known, but many believe she might be on PBE in the next patch – so as of November 3, 2021. This could mean that her live update will be in LoL Patch 11.23 on November 23, 2021.
This would coincide with most of the preseason release as well. The ASU could also be released two weeks later in the last patch of Season 11 though, so we will have to wait to find out.
Caitlyn Comparison

New Old pic.twitter.com/IPYESZ3P8x

— Jumaralo Hex (@JumaraloHexCore) November 1, 2021
What Changes Did Caitlyn Get in Her ASU?
Her base skin has been updated to fit into 2021. Her outfit got upgraded, showing off less skin, giving her leggings under her skirt as well as a shirt covering her cleavage. Of course, overall, her base skin looks much better in-game as well, and the hat and facial features look less clunky.
Her base skin isn't the only thing Riot improved. Some of her older skins also got updated to fit with the new character model. These are some skins which also got updated along with her ASU:
Arctic Warfare
Headhunter
Lunar Wraith
Resistance
Sheriff
Safari
Some splash arts have also been revealed of these updated skins. Our favorite is probably the sheriff Caitlyn update. The donuts just complete the image.