EDG Scout has played the series of his life and was rewarded with the 2021 World Championship title, as well as the title of Finals MVP.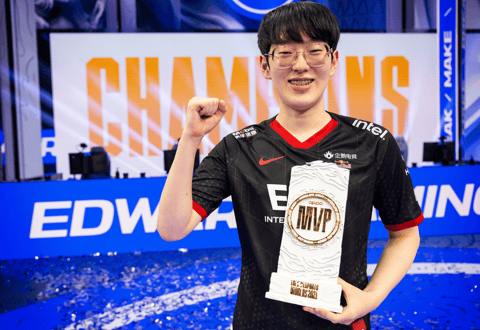 The 2021 World Championship had a dramatic end to it, the final going all the way to five games. That hasn't happened since 2016 when SKT T1 took on Samsung Gaming in the finals. The last game was tense and extremely close, but EDG won out with their teamfighting.
One pick that seemed especially important was the mid lane pick of Zoe for Lee "Scout" Ye-Chan. The champion let him poke out DAMWON KIA and the 2020 World Champions had no way to answer this pick.
So, after successfully winning a close final game, EDward Gaming have finally lifted the Quarterfinal curse and gone all the way – winning the 2021 World Championship. Scout played a huge part in the win and won the Finals MVP award.
Why did Scout Win the MVP Award?
Scout was an integral part of the championship win for EDward Gaming. His prowess on LeBlanc even forced DAMWON KIA to go into the defensive by counter picking the mage with Malzahar. This already showed how much respect ShowMaker has for the opposing mid laner.
In the end, it was his magnificent plays on Zoe that helped edge EDward Gaming ahead of DAMWON KIA. The way he was able play around with the champion, land critical Sleepy Trouble Bubbles helped EDward Gaming throughout the final two games.
Not even ShowMaker's Syndra could keep up with Scout in the final game of the series. Scout played for his team and after 5 years of misfortune, he was finally able to bring home the biggest prize in League of Legends esports – the Summoner's Cup.
When told that he would be receiving the MVP Award for his play during the 2021 World Championship finals, Scout expressed his disbelief. Through a translator he explained that he felt their jungler Jiejie was more deserving of the MVP award.
Stay humble my friend. Stay humble.
Now the 2021 World Championship has concluded and fans can look forward to the debut of the upcoming Netflix series Arcane, which the World's opening ceremony already hinted at.