After the lackluster season G2 had, some changes are in order. G2 owner Carlos "Ocelote" Rodriguez announced roster changes for the 2022 season. More info right here.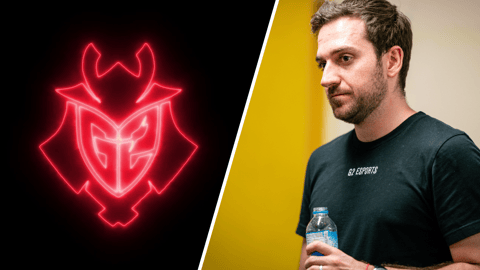 G2 esports dropped a bomb on October 11 with owner Carlos "Ocelote" Rodriguez announcing certain roster changes for the 2022 League of Legends season. The team is looking to trade three players, and staff members are also going to have to look for new homes in esports.
There have been various rumors regarding G2 and their roster. Some rumors seemed far-fetched at the time, but it seems that there was more behind them than many had anticipated.
Wunder, Mikyx and Rekkles to be Traded
Three players will likely be traded before the 2022 LEC season starts. Top laner Wunder and support Mikyx have been a staple of G2 throughout the last few seasons and have become icons for fans.
Rekkles, one of the most successful ADCs in the west, is also on the list of players to be traded. In the video Ocelote posted on Twitter, he stated that the decision to let go of these players was with the future success of G2 – with the World Championship – in mind.
Where these players will go is not yet known, but G2 is looking for the best options for the players to thrive in the future.
Update on G2 LoL Roster pic.twitter.com/cjkkPxkmA1

— CarlosR ocelote (@CarlosR) October 11, 2021
Grabbz and Nelson to be Replaced by G2
The coaching staff of G2 is also getting an overhaul, with strategic coach Sng "Nelson" Yi-Wei and head coach Fabian "GrabbZ" Lohmann along with their supporting staff being let go as well. All this was announced through the video tweet by Ocelote as well.
This is starting to look like a whole rebuild by G2 for the coming season, with new staff, new players and a whole new attitude as well maybe. Again, who will replace Nelson and Grabbz is still unknown, but Ocelote did hint at an exciting rebuild for the team.
Did G2 Get a New Team Manager?
Romain Bigeard, LEC Business Development Manager and on-stage talent might return to his roots as a team manager. Bigeard who was the previous manager of Unicorns of Love and OpTic Gaming might be the next G2 manager, according to sources by DotEsports.
Will he be able to help build G2 back up in the upcoming 2022 LEC season?
For more League of Legends news, make sure you stick around on EarlyGame.