On Wednesday, May 10, 2023, the MAD Lions played T1, losing 3:0 in an embarrassing fashion. The loss and subsequent reaction of one MAD player prompted the Spanish LoL caster Jamie Mellado to call them out on Twitter, resulting in some arguments online.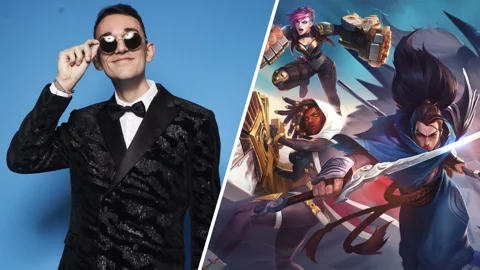 MSI 2023 is heating up, both on Summoner's Rift, and off it. Recently, the LEC first seeded MAD Lions faced off against the second seed of the LCK, T1 and lost in embarrassing fashion.
This loss was to be expected by many, but still left LEC fans disappointed. Some even went as far as to call out the players' behavior once the Nexus fell. Was the callout warranted though... since it was only over a smile?
LoL MSI 2023: Caster Calls Out MAD Lions Mid Laner For Post-Game Behavior
After the abysmal loss to the LCK's second seed, the MAD Lions regrouped in their team room, which was all filmed. The post-game reaction seemed to prompt some fans to lash out at players, with the Spanish League of Legends caster Jamie Mellado sending out a tweet on Twitter in which he compared MAD Lions jungler and mid laner.
Actitud de un ganador // Actitud de un perdedor

Ambas imagenes reflejan el nivel de performance de ambos en la serie. pic.twitter.com/Agln0E3GFA

— Jaime Mellado (@jaimemellado_) May 10, 2023
In the tweet, he posted a side-by-side image of the two and their post-game reactions, writing, in Spanish, "attitude of a winner, attitude of a loser. Both images reflect the level of performance of both in the series.". In the images, MAD jungler Elyoya can be seen with a deep frown, while Nisqy is smiling.
Need some time away from all this League of Legends drama and flame? Then play a single player game like Star Wars Jedi: Survivor!
This tweet blew up, prompting well-known members of the League of Legends community, like Brieuc "LEC Wooloo" Seeger and Heretics coach Christopher "SeeEl" Lee to defend Nisqy and call out Mellado for his comments.
Insanely disrespectul. IDK how many times Nisqy has to be spat on in how many regions for peopel to realize what he rbing to a team.
It wasn't just fans and members of the community who commented on the tweet. Nisqy also caught wind of the call out and responded. The tweet has since been deleted, but in it, he wrote, "ta mere est une pute?" which translates to "your mother is a whore?" As mentioned, he deleted the initial response, but has since made a statement on his own Twitter to the situation and explaining why he deleted his first tweet.
I deleted, there's no point in obsession over a moron who doesn't understadn the world of competition. I don't wantt o create more porblems.
Nisqy and the MAD Lions are not out of contention for the MSI title just yet. They will face off against the number two LEC seed, G2 Esports, on Saturday, May 13, 2023. Will Nisqy be able to prove his haters wrong or is Caps going to be able to be back in form?
League of Legends is a game set in the vasrt world of Runeterra. If you're interested in learning more about the champions and the art, then make sure to pick up Realms of Runeterra!
This article contains affiliate links which are marked with [shopping symbol]. These links can provide a small commission for us under certain conditions. This never affects the products price for you.