The 2023 Mid-Season Invitational is underway and G2 Esports kicked off the tournament with a nail biter. Caps pulled out a pick that most wouldn't expect in the mid lane, but it worked.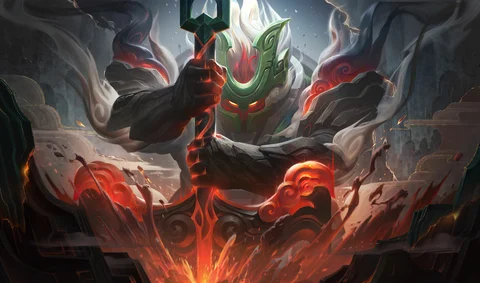 The first day of the 2023 Mid-Season Invitational is over with two teams from Group A moving on to the next round, while two more fall to the bottom bracket in hopes of one final match to keep their MSI 2023 hopes alive.
G2 Esports, having lost in the semi-finals of the 2023 LEC Spring Split Playoffs, have to go through the Play-In Stage at MSI 2023 and in their first game faced off against Brazilian champions LOUD. Caps, known for his unique picks, decided to play the champion to whom he lost in 2019.
LoL MSI 2023: Caps Pulls Out Unconventional Pick
In 2019, at the League of Legends World Championship, G2 Esports lost 3-0 in the finals to a surging FunPlus Phoenix. Let's move the clock forward a few years and we're at the 2023 Mid-Season Invitational.
FunPlus Phoenix isn't part of the tournament, but G2 Esports is and they've still got Caps at the helm. In the picks and ban phase against the Brazilian representative LOUD, Caps pulls out none other than Nautilus mid.
MSI 2023 is also the first time that the tournament has received co-streaming rights, which means that streamers are allowed to also stream the event to try and further the esports reach.
One of the streamers taking full advantage is none other than the mid laner to whom Caps lost the World Championship in 2019 – DoinB.
During his stream, DoinB was ecstatic to see Nautilus mid. According to a translation from LPL Fanclub on Twitter the former mid laner stated:
I want G2 to win the series. At the post-match interview, the host will ask him why mid Nautilus. And Caps will say: 'I know Doinb is somewhere watching right now. I lost to his Nautilus in 2019, I want revenge. Comeback to pro play, Doinb!' And he will cry into tears. Guys, it's scripted.
It doesn't get more DoinB than that, right? In 2019, DoinB pulled out Nautilus mid to counter Caps aggressive Pyke mid pick and well... we all know how that went for G2, right?
This time, Nautilus was victorious once more, with Caps managing two wins in a row to move G2 into the next round of the upper bracket, where they will face PSG Talon to see who automatically qualifies for the 2023 MSI Bracket Stage.
Need something to read while you wait for MSI Day 2? Check out the League of Legends Comic: Lux!
This article contains affiliate links which are marked with [shopping symbol]. These links can provide a small commission for us under certain conditions. This never affects the products price for you.