The 2021 World Championship is just hours away, and we have a few last-minute scores to settle. One of which is in-game drops and rewards.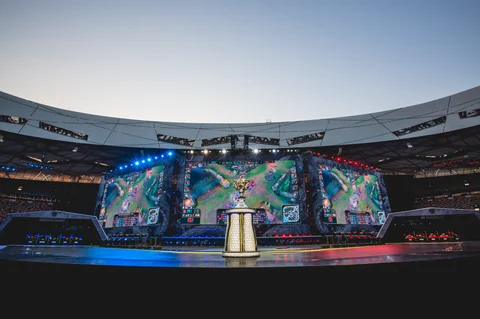 In every international event, Riot gives away a few free goodies for fans who watch the event. We're going to go over the different rewards you can get and also how to get them. You want some epic new emotes and a some Hextech chests? Then keep reading!
More League of Legends Content:
What Are Worlds 2021 Drops and Watch Rewards?
As mentioned above, Riot usually gives out some free goodies for fans watching any international event. The 2021 World Championship is no different. By logging in and watching the games online, fans will be able to gain in-game cosmetic rewards or just emotes and champion capsules.
So, all you have to do is be a fan of League of Legends esports to gain any of the rewards Riot has to offer.
How to Gain Rewards During the 2021 World Championship?
There are three ways of gaining rewards during the 2021 World Championship. You can either play the pick'ems, gain rewards through stream drops or through watch rewards. The pick'ems will start with the Group Phase, but you can already choose your 'crystal globe' pick of who you think will win it all.
#Worlds2021 Drops and Watch Rewards Are Coming!

Read more here: https://t.co/WRkS3HzS7y pic.twitter.com/b9Wt68uDmB

— LoL Esports (@lolesports) September 30, 2021
How to Gain Stream Drops
To gain these types of rewards, you'll have to go onto the official lolesports website and log into your Riot account. Just by doing that, you already have a chance to get Hextech Chests, Esports Capsules, or the new Worlds Rewards Capsule!
The Worlds Rewards Capsule is a new concept Riot is introducing this World Championship. If you're lucky and get one, you could gain these rewards:
Worlds-exclusive Emotes and Icons for 2021 (excluding team logos)
Esports Capsule
Hextech Chest & Key
Drops are enabled for those of you watching the action live on lolesports.com while logged into your account. Drops are random and can happen during any game and at any time, but Riot did give a few examples of when a drop could happen while watching the game:
Pentakill: Drop is guaranteed to happen
Stolen objective: A drop might happen, but isn't guaranteed
Multi-kill: A drop might happen, but isn't guaranteed
Rewards might differ from region to region, but Riot does want to keep it as unified as possible. We were also given hints for some big drops. So make sure you tune in 5-minutes before these moments:
Picks and Bans Game 1 Play-ins, October 5
Game Start Game 1, October 11
Game Start Game 1, October 22
Game Start Game 1, November 6
Riot even hinted that during the finals on November 6, shocked Teemo will make an appearance. So tuned on October 6. For a full list of the 2021 World Championship schedule, click right here!
How to Gain Watch Rewards
Watch missions will appear in the League of Legends client. You'll be gaining presents by merely watching the League of Legends World Championship through the lolesports website with your Riot Account logged in. Then, you can log into your League account later to get these rewards:
1 Worlds Game: 500 Blue Essence
10 more Worlds Games: Esports Capsule
25 more Worlds Games: Esports Capsule + Worlds Rewards Capsule
Worlds Finals: Esports Capsule + Worlds Rewards Capsule
It's never been this easy to get free stuff in League of Legends! So make sure to log into your Riot account tomorrow before 13:00 CEST when Worlds 2021 play-ins begin!
The guides, the videos, the lore, it's all here! EarlyGame will help you become Challenger!