We were sent HyperX's new "Cloud Alpha S" headset, and after reviewing it for a few weeks we can confidently confirm that this is one of the new market-leaders. The design is both comfortable and professional, and the audio quality is second-to-none.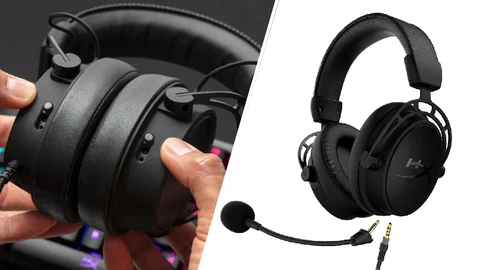 For anyone who keeps a close eye on this space, they'll be well aware that until recently the Razer BlackShark V2 was considered to be in a league of its own. We were in agreement with that until the release of the Cloud Alpha S. We firmly believe that HyperX have done enough to now also be seen as one of the best headsets available on the market.

We'll go into each of the core criteria below; the tech specs, ease of installation, comfort, durability, audio and mic quality. But for those who can't wait, here's the one sentence review: this is the one of the highest-quality headsets on the market, with a design that strikes the right balance between minimalism and customization, although for the very best audio-input quality you'll still want to pick up a standalone mic. This last criticism isn't exclusive to the Cloud Alpha S, it's true of pretty much every gaming headset, but we'll get to that.

Cloud Alpha S: Key Specs
Here are the key specs for the Cloud Alpha S:
Driver Type: Custom dynamic, 50 mm with neodymium magnets
Frequency Response: 13 –27,000 Hz
Connectivity: Wired-only, 3.5 mm plug (4-pole) or USB Type-A
Weight: 0.71 pounds / 321g
Cord Length: 3.28 feet / 1 m
Price: $129.99 / £99.99
That won't mean much to a lot of potential buyers, but basically: the audio-quality is some of the best currently available for gaming headsets.
Ease of Installation
The Cloud Alpha S doesn't require the installation of any HyperX software, so it's as simple as plug and play. I tried the Cloud Alpha S on a MacBook, a PC, an Xbox and a PlayStation and the Cloud Alpha S worked seamlessly with them all. With the PlayStation you can just connect the 3.5 mm jack into the controller, but we preferred plugging it into the dongle the Alpha S comes with, and then plugging the dongle into the PS5s front USB port (otherwise you can't use the dongle's helpful sound balancing buttons).
As good as easy installation can be however, the lack of software for the Cloud Alpha S prevents users from fine-tuning the device to their own preferences. For the vast majority of users this is a non-issue, but it's worth mentioning, although even without the Cloud Alpha S having its own software, you can still adjust, volume, bass and audio balance (between the game and voice chat) on the headset or the attached dongle.
Design, Comfort & Durability
Gone are the days of tacky PC accessories that are bejewelled with enough LEDs to blind someone. The Cloud Alpha S is available in black and blue, and the design is subtle enough to make the headset as appropriate for a professional environment as it is for gaming. This is a huge win for those of us who don't want to be silently judged.
In terms of comfort, the Cloud Alpha S is without the doubt one of the most comfortable headsets I've ever used. You can sit for well over 10 hours with this headset on before feeling any discomfort. This largely comes from the adjustability of the product, which can be made comfortable for any size head. Of course, at this price point one should expect comfort, but you'd be surprised how many headsets still aren't.
While we didn't stress test this product, the individual components seem to be well-made and the aluminum frame would almost certainly survive any potential fall. It's a gaming headset, so it's far more likely you just choose to upgrade at one point rather than them breaking from physical damage. But all the same, the Cloud Alpha S does indeed seem to be durable.
Audio Quality
The 7.1 surround sound has been custom-tuned for gaming, and it's fantastic for that purpose, but it's not the perfect setup if you're listening to music. This is a gaming headset, and you're reading the review on a gaming website, so we're going to take a wild guess that you're looking for a headset to game with. Therefore, we imagine this is the kind of custom-tuning you're looking for. But for those of you that are looking for headphones for general PC use, and don't care as much about optimizing your setup for gaming, then maybe look elsewhere.
The base adjustment sliders are worth mentioning as a solid plus here for the Cloud Alpha S. This isn't a feature you see every day, and it offers a simple but noticeable adjustment between three-levels of base. Of course, some will still desire more precise customization than this, but for a gamer's needs it should be perfect.
Mic Quality
This is the one noticeable downfall of the Cloud Alpha S: the microphone simply isn't up to par with standalone mics. To be fair, we're yet to see a gaming headset that does come equipped with a built-in mic good enough to rival the standalone equivalents, but we have to mention it. So if you're looking to go into content creation, don't rely on the mic of the HyperX Cloud Alpha S.
Although it might not be able to compete with standalone mics, the HyperX Cloud Alpha S still has a mic that's as good as every other product in its class. So if you're just using it to voice chat while gaming, it's perfectly adequate.
Final Verdict: Very Good High-End Gaming Headset
The Cloud Alpha S Wired Headset is a high-end product with a high-end price tag, but we think you're getting good value for one of the clear market-leaders. As we've mentioned in the review, the microphone isn't good enough for content creation, but for every other use a typical gamer might have, it's near-perfect. We're also especially keen on this new, and more mature design.
As good as the Cloud Alpha S is, though, we have to be clear: this is a product optimized for gamers. If you're looking for a set of headphones for general PC use, or a cheaper option that's less optimized for gaming, then there are better options out there for you. But if you are a gamer, look no further: the Cloud Alpha S is an excellent gaming headset.