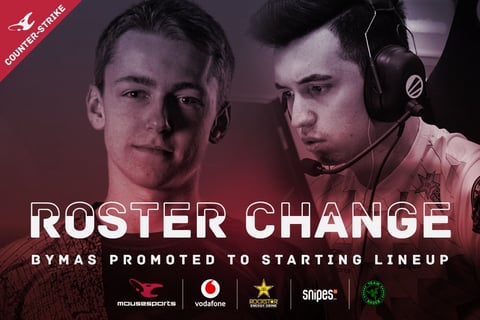 A Roster-Update at mousesports. 17-year-old Bymas replaces w0xic on the active CS:GO roster taking immediate effect. This is the team's reaction to its bad results at the ESL One Cologne 2020.
Now it is official. The 17-year-old Latvian Aurimas "Bymas" Pipiras replaces Özgür "w0xic" Eker at mousesports. The reason behind this might be the persistent bad results that lead to a last-place finish at the ESL One Cologne 2020. In the 0:2 defeat against the MAD Lions, w0xic only got 2 kills on the last map. This may have resulted in him losing his spot on the mousesports' roster.
The 21-year-old had been a part of the mousesports line-up since the general overhaul in early 2019. Since then, the team has had several successful showings like the victory in the ESL Pro League Finals Season 10 against Fnatic. Since May of this year, the team has been falling in the rankings. Also, the scheduled Playerbreak did not bring the desired reset the team needed.
As a direct reaction to our recent results and the ongoing online league play, amid the covid-19 pandemic, we've decided to promote @bymascs to the starting roster to replace @w0xic. pic.twitter.com/XnfYDjvkVk

— mousesports (@mousesports) August 27, 2020
Bymas will hopefully be a breath of fresh air for the team but only time will tell. The Latvian was recently a stand-in for FaZe Clan and had some good performances while subbing in. However, the team does not have much time to prepare and practice for its upcoming matches. Next Wednesday the team will start the ESL Pro League Season 12 with their new roster. Does Bymas have what it takes to pull mousesports out of their slump?
More news about CS:GO and the world of gaming can be found on EarlyGame and the EarlyGame YouTube Channel!