Porsche Coanda Esports Racing Team dominated the competition and roared to ESL R1 glory at Gamers8, cementing their position as the champions of the tournament.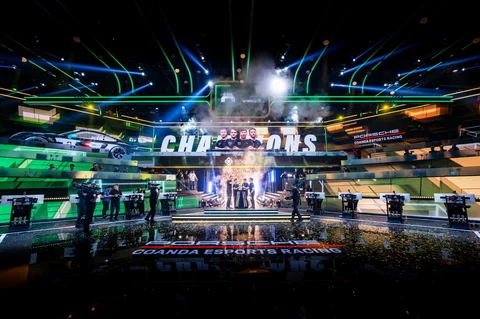 Consistency proved the key for Porsche Coanda Esports Racing Team in their triumph at the ESL R1 tournament sponsored by Aramco at Gamers8 on Sunday night.
Stay up-to-date with all tournament results:
ESL R1 At Gamers8: Porsche Coanda Finishes Victorious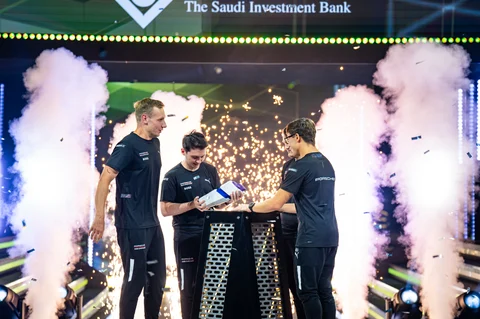 Up against 11 other teams in the four-day competition, Porsche Coanda racked up the points through solid racing and teamwork – and the moment they reached finalist mode, star driver Joshua Rogers roared into action to seize first place.
Porsche Coanda earned the winning trophy and $250,000 for coming top in the ESL R1 race at Gamers8, organized by the Saudi Esports Federation, with Team Redline's second spot claiming $150,000 from the $1 million tournament prize pool.
Rogers said:
"We're just ecstatic. It's been a long four days. It was an amazing feeling to be able to seal that win for the team. The pressure was always going to be high, but I like to feel I'm more comfortable in high-pressure scenarios anyway. I feel that played to my strengths. I'm super, super happy to be able to help us all bring the trophy home."
Fusing racing culture into the digital age to provide a virtual racing experience unlike anything ever seen before, ESL R1 is built for people who are racers at heart and gamers in mind.
Rogers's teammate and fellow Australian national Dayne Warren said the victory was even sweeter considering how grueling Porsche Coanda found the competition at the elite tournament.
Warren admitted:
"It was very hard. It was four days and we're coming here at midday and finishing at midnight, or even just after, and just racing the whole day. That plus being against the best in the world meant crazy, hard days. But nonetheless the experience was amazing, and we're delighted to win."
Porsche Coanda's American racer Mitchell DeJong described Gamers8 as "seriously fantastic".
DeJong added:
"The experience of being here was super cool, a fantastic experience. The facility here is amazing and the people are so friendly and helpful. It's truly been an honor. I'm so happy we've been able to experience this – it's incredible."
Powered by