Did Nickelodeon hint at Spongebob being included in Fortnite in Season 3, Chapter 1 already in November?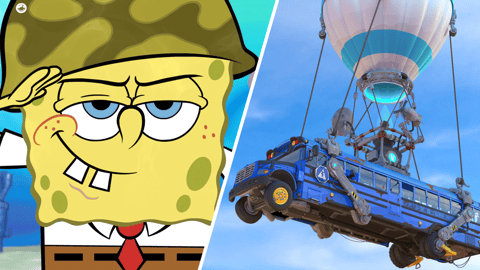 Are you ready kids? Aye aye captain! Good! Because our favorite yellow sponge will be making his debut in one of the most popular online games – Fortnite. Chapter 3 of Fortnite has brought us so many cool new things, of course, we need it to get even better with Spongebob also making an appearance.
According to a Nickelodeon trailer, the yellow Sponge will be leaving his grill in Bikini Bottom and making his way onto land in Fortnite.
Spongebob To Come to Fortnite in Chapter 3, Season 1?
What caught people's attention was the trailer Nickelodeon posted online for a game called 'Portal Chase'. The trailer starts off in an animated version of what looks an awful lot like the Battle Bus.
The 'Portal Chase' bus and the Battle Bus almost look uncanny. If a collaboration between Nickelodeon and Epic wouldn't be in the works, then the video game giant could have probably sued Nickelodeon for copyright.
Would you really think Epic would stay silent in such a situation if there weren't talks in the back? Hardly! There is also a bit more which is fueling the fire of speculation regarding our spongey-yellow friend.
Epic and Paramount Collaboration
Epic Games has collaborated with so many different people and companies already. Spider-Man is swinging all over the palace, Naruto is using his Shadow Clones in every corner and there is also talks of the Teenage Mutant Ninja Turtles coming to the Island thanks to a collab between Paramount and Epic.
So, if we can get some turtles – and a rat – into Fortnite, then why not Spongebob and friends? Honestly, the color scheme of Spongebob would fit so well onto Fortnite! Imagine running around as Patrick Star or karate-chopping anyone who gets in your way dressed as Sandy.
There are so many opportunities, so we hope that the inclusion of the Battle Bus in the Nickelodeon trailer wasn't just coincidence and lazy art on their part, but a huge hint at what is to come for us Fortnite players.