Would you like to become an air traffic controller, but don't know what to expect during training? Don't worry, today we'll explain exactly how air traffic controller training at DFS works.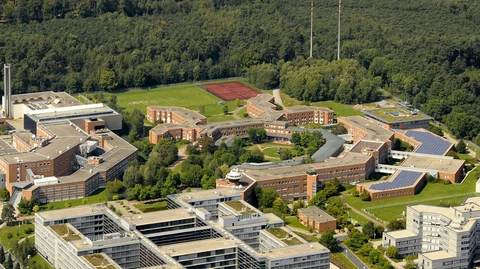 The German Air Traffic Control, also abbreviated to DFS (Deutsche Flugsicherung), is looking for new talent. Old air traffic controllers are retiring and air traffic is also picking up again after 2 years of COVID. Since the job of an air traffic controller is not an easy one and only a few people are even eligible for it, it's no wonder that DFS is looking for new talent in all directions. And we gamers in particular, as tech-savvy individuals, often bring some important qualifications to the job.
We've already looked at what DFS actually is and what air traffic controllers have to do, and we've also covered how the application and selection process works. If you don't know that yet, take a quick look here before you read on:

Anyone who wants to apply to DFS naturally wants to know not only how the selection process works, but also what to expect during training. That's why we're taking a look today at how air traffic controller training actually works and what you'll be expected to do, but also what you'll be offered. And yes, you can also train to become an air traffic controller as part of a dual study program. So first we'll go through the usual training path, but then we'll also take a look at the dual study program.
If you're wondering now whether you should really take on the training, take a look at this video:
Training Phase 1: Theory And Simulator Training
As we have already written in our article on the application and selection process, not everyone is suitable for the job as an air traffic controller and some things cannot be learned. Accordingly, only a fraction of applicants make it through the selection process and can start their training. But those who have been able to prove themselves start their first training phase at the Air Traffic Control Academy in Langen near Frankfurt.

In Langen, you will undergo 12-15 months of basic training, during which you will learn the basics of navigation, meteorology and aviation law, as well as aircraft type, radiotelephony procedures and aeronautical English, all of which you will also practice in the simulator. You will even receive a modern tablet for your training with access to all course materials and can deepen your simulator training at any time and as often as you like.
Briefly summarized, your first training section consists of the following fields:
Navigation: Speed, altitude, positioning, etc.
Air law: Who is allowed to do what above the clouds and where is it better to not land?
Aircraft type: Engines, wingspans, capacities, etc.
Meteorology: Physics, atmosphere, weather and climate
Radiotelephony/Aeronautical English: How do we communicate?
Of course, the training is also remunerated accordingly and you will receive €1250 gross per month in this first training phase as well as €400 monthly housing allowance and support in finding accommodation in the Rhine-Main area.
Training Phase 2: Practice & Training On The Job
Once you have successfully completed the first phase, you move on to phase 2, on-the-job training. In this 12-18-month training phase, you will learn on the job in a control center or tower. Here you will put the theory you have learned into practice in live traffic.
From now on, you will be allowed to pilot (well, guide) aircrafts in direct contact with the pilots, under supervision of course, and slowly build up your skills. When you finally receive your final pilot license (there are up to twelve licenses - six as a radar controller, six as a coordination controller), you will be responsible for your own area.
In short, the second part of the training goes something like this:
Orientation: scope and specifics of the airspace you are in charge of
Familiarization: structure and details of the technical systems to be operated
Coordination: guidance and control of the aircraft in your responsibility
Communication: passing on information and instructions by radiotelephony
Qualification: passing exams to obtain various licenses
As soon as you start the second part of your training, your salary will increase and you will receive about 4000 € gross per month during the training on the job. After successful completion of the complete training you will receive a starting salary of about 100.000 € per year...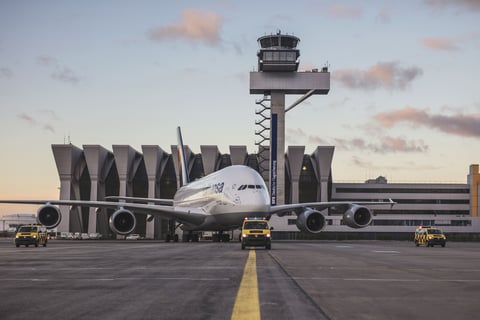 Dual Study: Air Traffic Controler And A Bachelor Of Science
If you want to, you can now also complete your training as an air traffic controller as part of a dual course of study. However, you have to meet a few requirements for this:
An above-average high school diploma (for Germans: Abitur under 2,0)
No completed training, no studies
Interest in business administration
If you meet these requirements, you must first go through the normal application process and the selection procedure. If you pass the selection process successfully, you will not end up at the Air Traffic Control Academy in Langen, but at Worms University of Applied Sciences, where you will study for a Bachelor of Science in Air Traffic Management.
You will study here for a total of three semesters and complete two practical phases during the lecture-free period. After the third semester, as described above, the theoretical training takes place at the Air Traffic Control Academy in Langen and the subsequent on-the-job training at your future place of work. During the second part of your training, you will also write your bachelor's thesis.
Of course, during your studies you will also receive a gross training allowance of around €1000 per month and, if necessary, a €400 housing allowance. The semester fees will of course also be covered by DFS.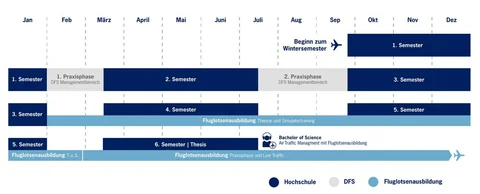 Why Dual Study?
Once you have passed your studies, you will be employed as an air traffic controller as normal. The advantage is that you will receive two degrees in a very short time. During your studies, you can also build up a professional network in the aviation industry and are thus very broadly positioned thanks to a mix of business administration theory and air traffic controller practice. As a result, you can also become a supervisor or coach for air traffic controller trainees or work in flight route planning, for example. Even though these options are generally open to all air traffic controllers, the dual study program can be an advantage here.
But the most important reason for dual studies is that you have a kind of safety net. Should you not be able to successfully complete one of the two courses, you can continue with the other and will not be left without a degree.

Hopefully we haven't scared you off. Yes, the selection process and the training are not without their challenges, but the benefits are quite impressive. A reasonable salary already during the training and the prospect of an enormous starting salary of €100,000 per year are worth a try in our opinion. So take another look at our article on the application and selection process and then submit your application here!