Want to unlock new recipes and progress in Bakery Simulator much faster? Read this guide and discover all the active Bakery Simulator codes. Here are ones for May!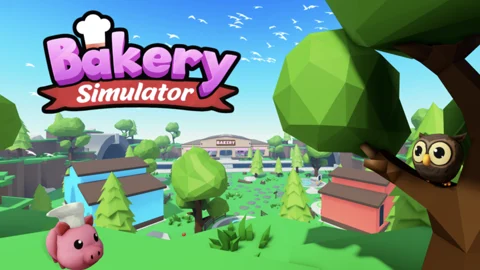 If you would like to role-play as a baker who can cook tons of tasty desserts for your customers - Bakery Simulator is your choice. As you level up, the game allows you to run the personal bakery from scratch and unlock 75 different sweets and pastries for your shop.
Want to level up faster? Read this guide and learn Bakery Simulator codes. They can be redeemed from the beginning and feature Coins and Gems as a reward. Moreover, codes are regularly updated. All you need is to keep up with getting free rewards.
How to Redeem Codes in Bakery Simulator
Even though codes are a much more exciting part of this article, you must know how to redeem them. Check the step-by-step guide below and learn how to use codes in Bakery Simulator.
Open Roblox and launch Bakery Simulator.
Once done, head to the bottom-right corner of the screen.
You will find the purple 'Enter Code' button here. Press it.
After that, insert the code from our article into the appeared text box.
Press the button 'Apply Code' and claim your rewards.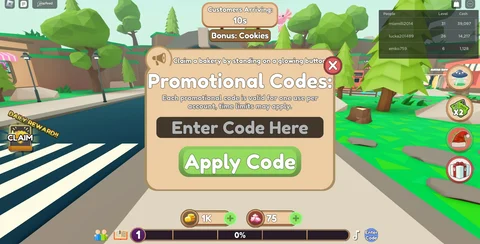 While redeeming a code, try to be careful with spelling, check it a few times. If, for some reason, the code doesn't work, it means that it got expired. Feel free to let us know about it in the comments. We will add the code to the expired list as soon as possible.
Bakery Simulator Active Codes May 2023
These codes were last updated on May 19.
We've collected all the active codes for Roblox: Bakery Simulator in the list below. They can be redeemed only once per account but without any limitations on the number of accounts you can make.
Summer22 - Use for 1,000 Coins, 25 Gems
Babble - Use for 25 Gems
Kingkade - Use for 25 Gems
Each Bakery Simulator code is time-limited. Therefore, try redeeming codes as quickly as possible to avoid missing any rewards.
Bakery Simulator Expired Codes May 2023
Codes that have been working in the past are mentioned in the list below as expired ones.
While some players and websites might suggest you use these codes, don't even bother to do it. These codes don't bring any rewards.
Where Do You Get Bakery Simulator Codes?
You can always find codes right here. If, for some reason, you are looking for even more codes, consider following the official Twitter and Discord accounts of the developers. Even though new codes are added rarely, you can feel free to check for the new codes as much as you want.
While you are here, watch our latest YouTube video: