Are you looking for free Gems? If yes, you came to the right place. Right here, we'll talk about Fruit Battlegrounds codes. Here are the ones for June 2023.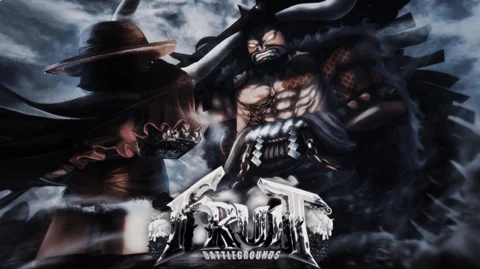 Even though Fruit Battlegrounds is still in alfa, it doesn't prevent this game from getting the first 100 million visits during the first year since its release. The central point of Fruit Battlegrounds is to get new fruits and use them while fighting against other players. Still, the game is regularly updated with tons of content so players don't get bored.
In this guide: you'll learn about Fruit Battlegrounds codes. They have been presented in the game since its release, which made Fruit Battlegrounds the game with one of the most extensive code systems.
How To Redeem Codes In Fruit Battlegrounds
Using codes in Fruit Battlegrounds slightly differs from other video games, so we suggest you check the step-by-step guide below. It explains how to redeem codes in Fruit Battlegrounds.
Open Roblox and launch Fruit Battlegrounds.
Press the button Spin Fruit beneath the Play button.
Once done, tap on the chest on the floor.
The code menu will appear in the bottom-left corner of your screen.
Insert the code from this article into the text box.
Press the button Redeem.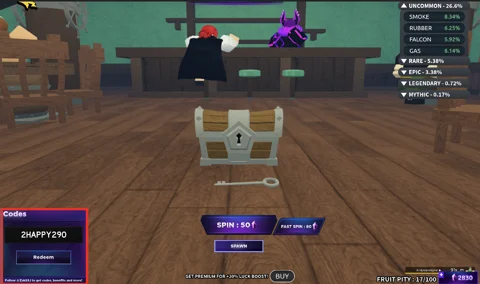 That's how redeeming codes work in Fruit Battlegrounds. Each code can be redeemed only once per account. Don't try to abuse the system and get free rewards twice.
Battlegrounds Active Codes (June 2023)
This was last updated on June 6
Want to get more free fruits? Check out the list below and discover Fruit Battlegrounds active codes.
HYPEFIX! - Use the code for 400 Gems
330WEUP!—Redeem for 600 Gems (New)
320THXGUYS!—Redeem for 850 Gems
310KEEPGOING - Use the code for 500 Gems
4TTRACTI0N - Use the code for 220 Gems
SKYH1GH - Use the Code for 240 Gems
300KWOW - Use the code for 800 Gems
OMG100M - Use the code for 1,500 Gems
These codes work only for a limited period. Therefore, try to redeem them quickly not to miss any rewards.
If you didn't get the desired Fruit from free spins, check out Roblox Gift Cards. They can be very helpful!
Fruit Battlegrounds Expired Codes (June 2023)
Right below are collected the expired Fruit Battlegrounds codes. They don't bring any rewards anymore.
KINGJUNGL3
2HAPPY290TOOKRAZY280
270TOOINSANE
LIGHTNINGHYPE
KRAZYGASSED
260BELIEVE
GETKRAZYY!
250QUARTER!
240GASSED
BUGFIXOP
GOCRAZY180!
170KKRAZY
FREECASHBRO
KRAZYSUPPORT
160WOW
DRACOMASTA
KAIDOBEAST
GOKRAZY150
140KAGAIN
FATSTACKZ
RAININGGEMS!
GEARFOOOOURTH
LONGAWAITED
ITJUSTDONTSTOP
LETSGOO130K
PAWGOKRAZY
UPDATETIMEEE
GOLDENDAYZ
FREECAZH
120KTHX
INDAZONE
LASTSHUTDOWNALRIGHT
110KYEE
WINTERDAYZ
COMEONMARCOOO
100KWEDIDIT
DAMN90K
80KAHHHHH
THXFOR70K
FREEBREAD!
60KLETSGO
SORRY4SHUTDOWN
MAGMALETSGOO
50KINSANE
40KDAMN
35KWOWBRO
30KLOVEYOU
100KWEDIDIT
DAMN90K
80KAHHHHH
THXFOR70K
FREEBREAD!
60KLETSGO
SORRY4SHUTDOWN
MAGMALETSGOO
50KINSANE
40KDAMN
35KWOWBRO
30KLOVEYOU
TOOHAPPYBRO
GRATITUDE
230GANGG
190KWOWBRUH
APPRECIATIVEBRO220K
LIT210
YESSIR
BIG200!
NEVERSTOP
DUBMINER
CANTSTOP
ITKEEPSCOMING!
SHUTDOWNLUCK
FUNNYNUMBER
Some of the expired codes can be brought back. Therefore, we highly recommend you check this list from time to time.
Where Do You Get Fruit Battlegrounds Codes?
Want to get more gems and participate in different giveaways for in-game resources? Check out the following social media accounts:
And if you are here, check out the latest GTA 6 Map Leak:
This article contains affiliate links which are marked with [shopping symbol]. These links can provide a small commission for us under certain conditions. This never affects the products price for you.