The Madden NFL 24 Superstar Game Mode is back. We have all the info on the new old game mode.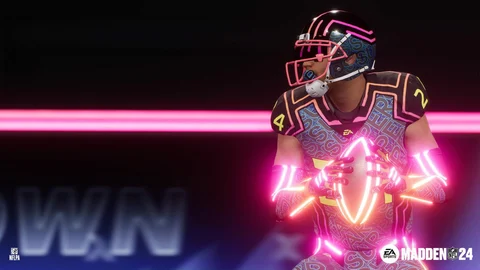 The developers of Madden NFL 24 have listened to community feedback and brought back the Superstar game mode. No other game mode has been as requested as Superstar. We have all the information on the Superstar game mode in Madden NFL 24!
This mode centers around NFL football, places gameplay at its core, and emphasizes extensive progression. Specific elements that players hold dear in the cherished Superstar mode, including a playable NFL Combine, real-time on-field feedback, and off-field perks, are only a few of the components present in Madden NFL 24's revamped Superstar feature.
Madden NFL 24 Superstar: NFL Combine
The journey to fame kicks off with you as a rookie, stepping into the NFL draft as a QB, RB, WR, LB, or CB, under the guidance of Coach Prime, Deion Sanders, serving as your mentor. We've introduced an updated version of a playable NFL Combine to initiate your journey, offering you the chance to display your skills through mini-games like the 40-yard dash, bench press, broad jump, and 3-cone shuttle.
Impact of Combine Rankings:
Your performance in each combine drill will significantly affect your draft prospects, particularly your rankings in comparison to your peers from the real-life 2023 NFL Combine. This performance will also determine the rewards you'll earn to enhance your ratings before the draft.
Your initial ratings, which are based on the archetype you choose during avatar creation, will determine the range of potential outcomes for each combine drill. For instance, a nimble and compact running back is more likely to excel in the 40-yard dash and 3-cone drill, while a robust, power-oriented back is more suited for the bench press.
After completing the combine mini-games, you'll engage in position-specific drills that will either elevate or lower your standing in the draft order. The pressure is on to stand out and secure a promising spot as a projected top-10 NFL Draft pick.
Following the Combine, you'll have the chance to participate in the Combine Interview, paying homage to Superstar modes of the past. In this segment, you'll answer timed, football-themed trivia questions that will further influence your actual draft position. The more questions you answer correctly, the higher you may rise on draft boards.
Once the combine phase concludes, the next destination is the NFL Draft, where your draft position hinges on your overall performance at the Combine, along with the positional requirements of each team. There's also an override option in the initial League setup that lets you pick any team if you prefer to skip the draft process. As part of the 2023 Draft Class, you'll be drafted by teams with the most significant need for your position, based on their requirements leading up to the 2023 NFL Draft.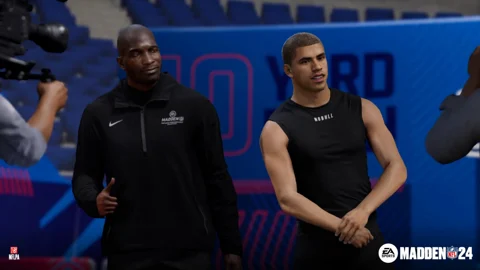 On-Field Performance Matters In Superstar
Ask any NFL player, and they'll affirm that getting drafted isn't the endpoint; it's merely the inception of an enduring journey. From the moment you ink your rookie contract, every game, every quarter, and every play carries significance. In response, Madden NFL 24 ushers in a fresh, in-game Player Grading system, exclusive to Superstar mode, delivering immediate feedback on your performance as you execute your plays.
Quarterback: Throw to Open/Covered Receiver
Wide Receiver: Call for Ball when Open/Covered
Running Back: Fake Out/Tackled for Loss
LB: Hit Stick/Faked Out
DB: Good Man Coverage/Allowed Man Completion
Superstar Missions
Another new inclusion is the Superstar Quests system, offering a comprehensive task log that empowers you to determine your upcoming objectives and the rewards you aim to pursue. These objectives encompass in-game targets, seasonal aims, career milestones, and even a few intriguing surprises off the field, awaiting your discovery as you delve deeper into your career.
You hold the reins in selecting which objectives to pursue, and your successful completion will be duly rewarded.
The missions encompass performance-driven stat-based tasks, career-defining achievements and records, team-based win/loss objectives, and even extend to off-field possibilities. Should you exhibit the Superstar potential everyone believes in, brand missions will open up, affording you the chance to become a brand ambassador for prestigious names like Nike, Jordan Brand, and Adidas. Your stellar performance on the field unlocks an array of gear.
Social Media Reactions
Beyond the field of play, your weekly narratives and experiences will take center stage on the new Social Media feed, augmenting the revamped league news feed within the Superstar mode.
The Social Media platform will pulse with reactions about you. It will feature responses to your recent game performance, your statistics, your off-field choices, and pertinent league news, voiced by a cadre of NFL insiders, including notable figures like Mina Kimes and Dan Orlovsky.
Moreover, the Social Media feed is the home of the novel MaddenCast. This live-action video podcast offers distinct commentary about you as a player, led by NFL Legends Ryan Clark, Fred Taylor, and Channing Crowder. Regardless of whether you're excelling or facing challenges, these personalities won't hold back in providing candid insights about your career's trajectory.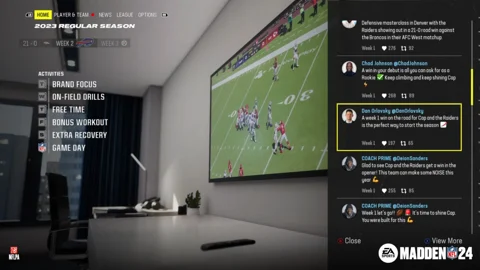 Side Activities and Mini-Games in Madden NFL 24 Superstar
To enhance your off-field Superstar stature, you have the option to engage in Side Activities, featuring a weekly schedule of diverse chances to elevate either your personal or team's ratings. These encompass: Community Events, training sessions, recuperation periods, and a familiar favorite in Madden – Mini-Games.

Indeed, each week presents you with the opportunity to step onto the practice field and enhance your ratings through position-specific mini-games like Rushing Attack, Passing Skeleton, and WR/DB Battle, alongside the full array of other classic games returning in Madden NFL 24.
A New Way To Play: Superstar Showdown
Step onto the grand stage with your superstar and engage in thrilling competition alongside and against other global Superstars in the brand-new Superstar Showdown. This fast-paced 3 vs. 3 football mode allows you to not only display your prowess but also continue advancing your players alongside your friends.
Flaunt your talents, attire, and individuality as you step onto the most dazzling virtual football platform. The Showdown Arena places your Superstar under the spotlight, featuring cutting-edge elements like emissive gear, illuminated field art, and a reactive jumbotron end-zone.
A fresh 3v3 gameplay twist accelerates your involvement, eliminating play-call screens, foregoing first downs, and adopting a rapid-to-fun 'First to 21' scoring structure. This ensures shorter yet more exhilarating matches.
Player Grading also applies in Showdown, designed to complement the mode's unique style. This guarantees that your in-game rewards align seamlessly with the distinctive on-field mechanics of the various Superstar gameplay styles.
Elevate your Superstar's status while earning exclusive equipment and enhancements in Superstar Ranked matches; for 1v1 clashes, Solo Ranked is available; or collaborate with fellow Superstars in Squads Ranked. Each event boasts its own leaderboard and distinct ranking path, accompanied by varying rewards.
Superstar Showdown remains dynamic throughout the season with live events, promising new experiences and diverse game rules throughout the year.
Progression and Customization in Madden NFL 24 Superstar
Madden NFL 24 has undergone a complete overhaul of the power and progression experience for Superstar, streamlining the advancement journey so that you continually earn rewards and enhance all your individual Superstars, whether you're engaged in League or Showdown gameplay.
Each playable position now boasts its own distinct avatar and progression trajectory, affording you the chance to personalize both the visual aspect and on-field influence of each of your superstar characters.
The physique of your avatar has a dual impact, influencing both physical ratings like speed and strength, as well as position-specific ratings such as throw power and throw on the run.
An entirely new addition to Madden NFL 24 is the Tiered Ability system, which intricately ties ratings to on-field actions and statistics. This system rewards you with heightened tiers of abilities as you elevate both your ratings and your successful plays on the field. For instance, as a QB equipped with the 'Deep Throw Elite' ability, you can enhance this ability by elevating your deep throw accuracy rating and effectively executing more deep throws during gameplay. The flexibility of mixing and matching abilities from various tiers enables you to personalize and experiment with diverse builds for your superstar.
Elevate your Showdown performance by enhancing your versatile Showdown abilities beyond your specific position. For instance, if you're primarily an offensive player in the League, you can enhance your tackling, coverage, and pass-catching skills within Showdown, transforming yourself into a well-rounded player. This will result in permanent upgrades to these attributes, allowing you to excel in Showdown no matter where you find yourself on the field.
Integrating these fresh progression elements with brand-new Custom Emotes and Celebration animations, your victories will not only be marked by success but also by your distinctive style. While the play may conclude at the whistle, the true competition continues post-play to determine who showcases the most impressive drip and celebrations.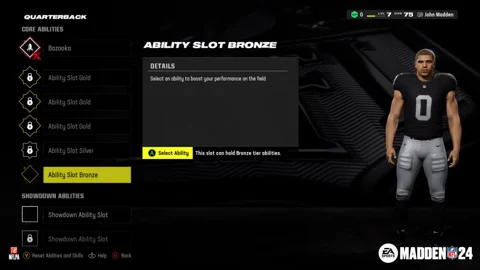 This article contains affiliate links which are marked with [shopping symbol]. These links can provide a small commission for us under certain conditions. This never affects the products price for you.