Not everyone has a high-end PC to play all games. Riot Games made Valorant playable for lower-end PCs, so let's take a look at the best settings for low-end PCs for Valorant!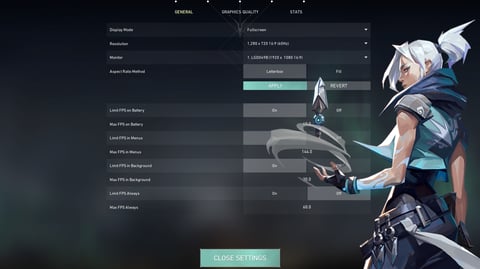 A lot of players around the world don't have a perfect PC. And Valorant can be played on low-end PCs. But to increase FPS and play Valorant without any bad stutters, you need to have the right in-game settings. For Valorant, you'll only want to tinker with the Video settings tab to make the game run smoother on a bad PC. So let's take a look at the best settings for low-end PCs in Valorant!
The Best Valorant General Settings for Low-End PC
The first settings that pop up under the main Video tab in Valorant are the General settings. Some options in the General settings tab can boost Valorant greatly, while others aren't even needed all that much and could be turned on by accident. So here are the best Valorant General settings for low-end PC:
Display Mode: Fullscreen
Resolution: Set it to lower resolutions such as 1280 x 720
All Limit FPS options: OFF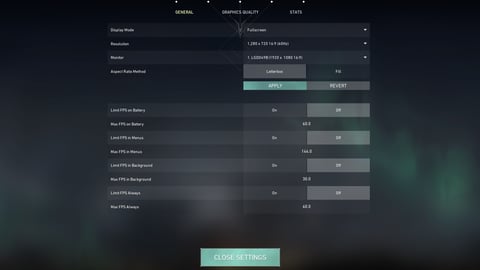 Although lower resolution may make Valorant look a bit odd, it'll boost the game insanely, for your eyes to enjoy the best Phantom skins! And all the FPS limiters exist only to limit your gameplay experience, so just turn them all off.
The Best Valorant Graphics Settings for Low-End PC
The second and most important low-end PC settings for Valorant are the Graphics Quality settings. The Graphics settings literally determine what the most expensive skins alongside the whole environment will look like. But some animations and details will cost FPS on your low-end PC, so here are the best Valorant Graphics settings for low-end PC:
Material Quality: Low
Texture Quality: Low
Detail Quality: Low
UI Quality: Low
Vignette: OFF
VSync: OFF
Anti-Aliasing: None
Anisotropic Filtering: 1x
Improve Clarity: OFF
Experimental Sharpening: OFF
Bloom: OFF
Distortion: OFF
Cast Shadows: OFF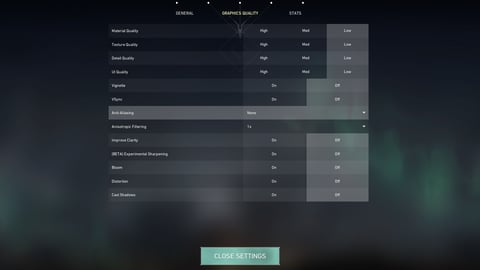 Basically, everything's set to OFF or to the lowest for Valorant to run better on a low-end PC. Valorant may not look the best, but you'll get a decent noticeable boost playing with the best Battle Pass skins. You can essentially try turning on Bloom and Distortion, but if you notice the game drop FPS heavily, then it's safer to keep them off.
The Best Valorant Stats Settings for Low-End PC
The third and final low-end PC video settings we'll check out for Valorant are the Stats settings. These may be the least important settings for improving Valorant on a low-end PC, but they'll help you out to monitor some specific performance options to see how the game's running. Here are the best Valorant Stats settings for low-end PC:
Client FPS: Text Only
Server Tick Rate: Text Only
All other options: Hide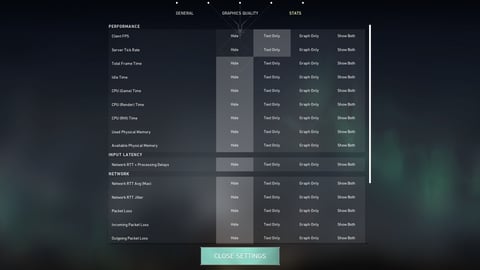 Both of these options will show on your top left corner. Client FPS will tell you the exact FPS in numbers, while Server Tick Rate shows the ping. If you're suffering from high ping and lag, you should definitely lower them! Besides that, keep the other options hidden because if you try and turn on all of these Stats options, your screen will clutter which will make Valorant run bad on your low-end PC.
That's it for the best low-end PC Valorant settings! Remember that the Graphics Quality settings play the biggest role in making your game run smoothly. Don't forget and set the other options, though. If these settings helped you out, you should definitely visit our Discord server and tell us how Valorant is running now!