In this article, we will guide you through the most efficient method of changing your password in Valorant, ensuring the security of your account against hackers and scammers.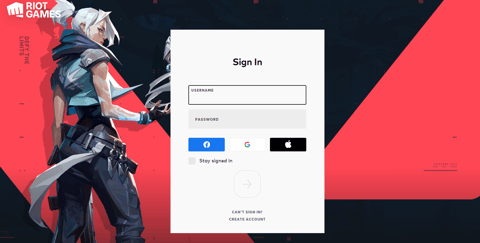 Right now, ensuring the security of our accounts is crucial. It's important to protect our everyday website accounts, and changing our passwords regularly can greatly help with that.
Valorant: Changing Your Password Is Important
While Valorant is a Free-To-Play game, our accounts still possess significant value. Many of us have invested money in VPs, which are subsequently utilized for cosmetics or the Battle Pass. You may believe that your account holds no value, since it cannot be legally sold.
If you want to have more possibilities in Valorant, maybe you should check out some Valorant Gift Cards. They make everything possible!
However, cosmetics, level, and rank carry considerable worth in the market. Unfortunately, these aspects serve as tempting targets for internet hackers, who aim to gain unauthorized access to your account and either exploit it or sell it on the black market. It is important to note that Valorant and Riot Games have implemented robust security measures, minimizing the likelihood of their databases being hacked.

It's not uncommon for passwords to be leaked, and even if your password is a complex combination of letters, numbers, and special characters, it's still worth considering a change. The general rule of thumb for passwords is to update them every three to four weeks, but this can be quite a cumbersome task. As a result, most people try to change their passwords two to three times per year.
If you want to grind in Valorant even more, perhaps you should give the Valorant Custom Keycaps a change. They look outstanding!
Valorant: How To Change Your Password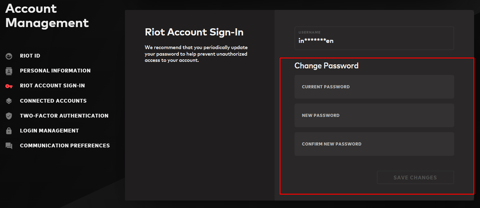 Changing your password is a straightforward process, but unfortunately, the option is not available within the in-game client. Therefore, we will need to follow these steps:
Log in to your Riot Games Account.
Once you've logged in, click on "Riot Account Sign-In."
As shown in the picture above, just below your username, you will see the option to change your password.
There, you will have to write in your current password, afterward the new one, and you will have to write the new one again as a confirmation that it's typed correctly.
Click on "Save Changes"

If you've reached this point, congratulations! You have successfully changed your password. In the event that you had any suspicions of someone accessing your account, you can simply scroll down on the same page as before and locate the "Log Out Everywhere" button under "Login Management". Clicking on this button will log your account out from all devices it was logged into, providing an added layer of security.

Have you seen the hidden LOL references in Valorant yet?
This article contains affiliate links which are marked with [shopping symbol]. These links can provide a small commission for us under certain conditions. This never affects the products price for you.