Apex Legends Season 16 has finally been revealed and it's called Revelry. The upcoming season will come very soon and feature a new weapon, the introduction of Team Deathmatch and reworks for every single Legend. Here's what you need to know about Season 16 Revelry.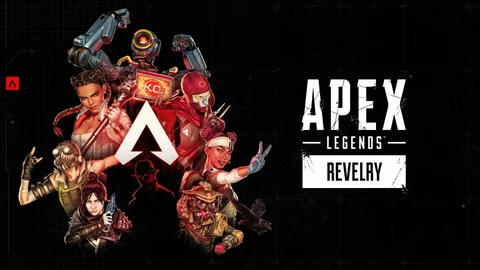 It can be difficult to keep up with the endless supply of content in Apex Legends. We've just enjoyed two events back-to-back, the Spellbound and Celestial Sunrise event, and already fans have begun asking about Season 16. This new season has finally been revealed: Revelry will feature a new weapon, a brand-new mode and a massive rework for all Legends.
In this article, you can find everything you need to know about Season 16, including the release date, all details on the new weapon and the new mode Team Deathmatch, as well as what the developers have to say about reworking all the existing Legends.
Apex Legends Season 16 Revelry: Release Date
Season 16 Revelry begins on Tuesday, February 14. And as with all Apex Legends updates, you can expect the patch to be installable from 10:00 am PT (1:00 pm ET / 6 pm GMT / 7 pm CET).
The update file will be fairly large, but you can usually pre-download from about 12–24 hours before release.
Check out the Season 16 launch trailer here:
New Mode & Rotating Playlist
We will finally get a new mode in Apex, and it's a good ol' classic: Team Deathmatch. The mode will be available for three weeks, essentially replacing Arenas while the devs rework that mode.
After those three weeks, Respawn will launch something called "Mixtape". This is essentially a new mode playlist, which will include a rotation of TDM, Gun Run and Control.
We're excited to announce that at the launch of Revelry, we'll be debuting Team Deathmatch to the Apex Games. Available for the first 3 weeks of the season, TDM has been our community's most requested mode and we're excited to be delivering this at launch.

We see Mixtape as a great way for players to test out a new Legend, practice their skills, and just experience that signature Apex Legends gameplay in real combat situations with little downtime between fights.
A New Weapon Is Coming To Season 16
Another exciting reveal is the confirmation of a new weapon coming to the game: The Nemesis. First details about this new gun have leaked ages ago, now it's finally been confirmed.
Unfortunately, the devs have remained pretty tight-lipped on what the Nemesis actually is, we only know it's an energy weapon and we seem to briefly see Lifeline use it in the launch trailer. We can't wait to give this puppy a try.
It's been a while since we unleashed a new weapon and the wait will be over when Revelry launches with a new energy weapon: The Nemesis. We're hoping to see this potentially unseat favorite standbys like the R-301 and Flatline.

Apex: Every Legend Will Change With Remastered Legend Classes
A pretty big surprise was the announcement that Respawn will rework the Legends. And we mean all Legends. In the official announcement, the devs revealed that they want to "adjust all Legends" and that they are introducing "Remastered Legend Classes" with Revelry.
There will now be five classes:
Assault
Recon
Skirmisher
Controller
Support

Every class will get a unique perk, but we don't know yet what these will be. Some Legends will also get buffs and nerfs in Season 16, including Lifeline, Seer, and Wraith. More details are coming closer to the launch of Revelry.
Anniversary Collection Event

Apex is celebrating its 4th anniversary this year, and Respawn is of course using that opportunity again to re-introduce the Anniversary Collection Event. As usual, you can expect login rewards, a new reward track and special decorations for the maps.
This month is also the 4th Anniversary of Apex Legends and we're celebrating with the Anniversary Collection Event featuring an all-new community content reward track and lots of celebrations happening in the game including login rewards† during the first two weeks of the season, with week one featuring Crypto unlocked and one Crypto Thematic pack for all players that login, and week two unlocking Ash plus one Ash Thematic pack for all players that login. Also, every map in the rotation will have special decorations and we'll have the return of a fan favorite that we'll reveal closer to the launch.

New Ranked Map Rotation
One major change will come to ranked, according to Apex Legends News on Twitter. The ranked map will now change every 24 hours, promising a lot more variety than the split-based rotation we've been used to. The maps for Season 16 are set to be Broken Moon, Storm Point and World's Edge.
In Season 16, the Ranked map will change every 24 hours instead of at the split.

Maps for this season are: Broken Moon, Storm Point, World's Edge.

These maps are the same in Ranked and Pubs. pic.twitter.com/ENW0cRMboq

— Apex Legends News (@alphaINTEL) February 6, 2023
What About A New Legend?
Multiple leakers have suggested that the next legend will be an older human called Ballistic. Unfortunately, we're not getting Ballistic, or any Legend actually, in Revelry. But we got so much reliable info on Ballistic, that we hope he'll appear in the game soon.
His kit focuses on weapons, as the name would suggest, and he's going to be an "Assault" class legend. Here's everything we heard about Ballistic.
Ballistic's Lore
We don't know anything official about Ballistic's lore yet, but he looks incredibly similar to Blisk, and so many fans assume it is actually Blisk in disguise. If you don't know Kuben Blisk, he's the man that owns the Apex Games.
During the Frontier War, Blisk was a thuggish South African mercenary who worked as a pilot for the IMC. When the war ended he created the Apex Games.
Ballistic's Abilities
Here is what leakers have claimed his kit will be:
Ballistic's Passive Ability: "Weapon Sling" — Ballistic can carry a third weapon, although the third weapon cannot have attachments.
Ballistic's Tactical Ability: "Smart Bullet" — Ballistic can shoot an enemy with a "Smart Bullet", which will nerf their weapon and cause it to overheat.
Ballistic's Ultimate Ability: "Weapon Enhancer" — When activated, all nearby teammates receive faster reload speed, increased unarmed move speed, and infinite ammo. While Ballistic's sling weapon gets equipped and upgraded to Gold.
Not the strongest legend we've ever seen, to be sure, but Ballistic should have a few fans.
That's everything we know so far about Apex Legends Season 16. Are you excited for Season 16? Or will you be hopping over to Warzone that week for the release of MW2's second season?
And if you're new to Apex, we advise taking Bloodhound for a spin:
This article contains affiliate links which are marked with [shopping symbol]. These links can provide a small commission for us under certain conditions. This never affects the products price for you.