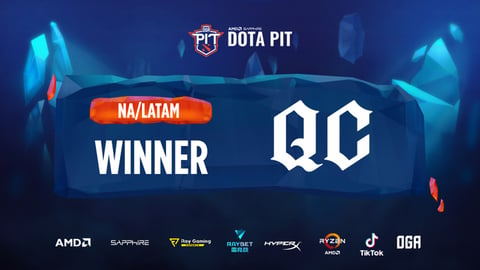 The grand final of the OGA Dota PIT Season 2 Americas came to an end yesterday with Ccnc and his Quincy Crew making it above the rest.
OGA Dota PIT is currently in its second season with two events already behind us. In China, CDEC became champions, and yesterday the winners of the Americas were crowned.
OGA Dota PIT Season 2: Americas featured eight of the best teams from North and South America and just like many suspected, Quincy Crew were the ones to take first place. After all, with the absence of Evil Geniuses from the tournament fans were left with little doubt about the next best favorites. The event took place between July 16 and July 21 and the teams jumped directly into playoffs with no group stage beforehand. Here are all the teams in order of placement:
Quincy Crew
Thunder Predator
business associates
CR4ZY
4 Zoomers
beastcoast
Midas Club
Infamous
The only South American team in the top four is Thunder Predator. They really seemed like the dominant team of the event as they mowed down through all the opposition in the upper bracket beating Midas Club, beastcoast, and business associates along the way. Rightfully so they secured a spot in the grand final.
In the meantime, Quincy Crew suffered a defeat to beastcoast which dropped Quinn "Ccnc" Callahan and his team to the lower bracket. There were no second chances left and slowly but surely the squad made it to the grand final. Ccnc and crew defeated Thunder Predator and wrapped up the event with a 3:1.
For their victory in the OGA Dota PIT Season 2: Americas event, Quincy Crew brought home over $10,000 in prize money. We're not entirely sure why EG missed the event, but from now on we're certain that Quincy Crew is definitely aiming at that top spot in NA.
Congratulations to #QuincyCrew, our NA/LATAM champions!

A big thanks to all of you watching and we'll see you again on July 27 for EU/CIS! #dota2 pic.twitter.com/iLgvOxZafc

— OGA Dota PIT (@OGADotaPIT) July 21, 2020
After China and the Americas, the series will continue with what's the most contested Dota 2 region – Europe and the CIS. Some of the best teams from the two regions are set to clash, starting July 27. The event will last up until July 30. OGA Dota PIT Europe/CIS will have a total prize pool of $170,000 which is more than the combined ones of the previous two tournaments.
Stay tuned for more Dota 2 news and make sure to check out EarlyGame for everything gaming and esports.