In einem aktuellen Tweet hat Call of Duty bestätigt, dass der Infiziert-Spielmodus bald zu Modern Warfare 2 kommen wird.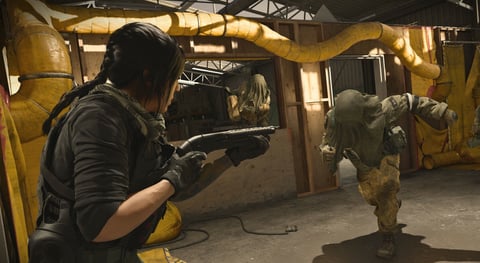 Season 2 steht vor der Tür, aber im Gegensatz zu den Warzone-Spielern (die sich auf eine brand-neue Map freuen können) sind die Multiplayer-Spieler besorgt, dass sie dieses Mal arm ausgehen. Vor allem, wenn man bedenkt, wie wenige Maps wir in Modern Warfare 2 derzeit haben, ist das ziemlich beunruhigend. Zum Glück haben wir gerade gute Nachrichten von den Entwicklern gehört.
Infiziert Game Mode Für MW2 Season 2 Bestätigt
Ein Call of Duty-Fan hat kürzlich getwittert, dass mit Freunden "Infiziert" zu spielen, das beste Gefühl der Welt sei. Daraufhin antwortete der offizielle CoD-Account:
We agree. See you Feb 15. https://t.co/ARxuqea7Dd

— Call of Duty (@CallofDuty) February 3, 2023
Season 2 beginnt am 15. Februar, also werden wir nicht viel Zeit damit verschwenden, zu erklären, was das bedeutet: Infiziert kommt zu Modern Warfare 2, wenn Season 2 am 15. Februar startet. Fantastisch.
Habt ihr Infiziert noch nie gespielt? Kein Problem, es ist im Grunde CoDs Version eines PvP-Modus im Zombie-Stil. Zu Beginn des Spiels ist ein Spieler der "Zombie" und darf nur ein Kampfmesser benutzen. Alle anderen Spieler haben Waffen und können rennen und sich verstecken. Wenn ein Zombie einen normalen Spieler tötet, wird dieser ebenfalls zum Zombie. Der letzte noch lebende Nicht-Zombie-Spieler ist der Gewinner.
Werdet ihr Infiziert spielen, wenn Saison 2 startet? Oder werdet ihr euch erstmal mit Ranked geschäftigen?
Mit dem Einkaufswagen-Symbol markierte Links sind sogenannte Affiliate-Links, über die wir unter bestimmten Umständen eine Provision erhalten. Für dich entstehen dabei keinerlei Mehrkosten.