Wieder einmal hat es das Batmobil zu Rocket League geschafft. Doch was hat es diesmal mit dem Auto auf sich und welche Hitbox hat es eigentlich?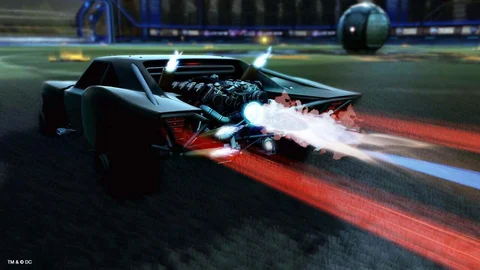 So langweilig und vorhersehbar es auch sein mag, Batman kehrt schon wieder nach Rocket League zurück und bringt ein brandneues Bundle in den Item Shop. Na ja, nicht wirklich brandneu, die Items gab es schon oft in Rocket League. Das 2022er Batmobil ist aber tatsächlich noch recht neu und sieht ziemlich krass aus.
Wie üblich werden wir uns so kurz wie möglich fassen. Werfen wir einen Blick auf die Batmobil 2022 Hitbox und was sie für das Fahrzeug bedeutet. Oh, wir werden es auch mit den anderen Batmobilen vergleichen, denn wir haben ja nichts Besseres zu tun. Es ist an der Zeit, uns in Batmans ikonischem Fahrzeug durch die Rocket League-Ränge zu kämpfen...

Welche Hitbox hat das Batmobil 2022?
Das Batmobile 2022 hat eine Dominus-Hitbox, die ihm fantastisches Handling verleiht, das perfekt für Last-Minute-Saves in den schwierigsten Situationen ist. Klar, alle Hitboxen in Rocket League sind sich ziemlich ähnlich, aber die Dominus-Hitbox ist die längste. Dadurch hat er die beste Reichweite für die Verteidigung und um Bälle erreichen zu können.
Gotham City needs a hero! Slide into one of four Batmobiles available in the Item Shop, or jump in a game of Gotham City Rumble. pic.twitter.com/93TqY3hVc1

— Rocket League (@RocketLeague) September 14, 2022
Dem Batmobil 2022 fehlt es damit aber etwas an Höhe. Es ist nicht besonders hoch oder breit, aber die Länge ist ein absoluter Killer. Es hat ein vernünftiges Fahrverhalten, sowohl in der Standardkonfiguration als auch bei Boosts, aber es hat keinen so engen Wendekreis wie einige seiner Konkurrenten. Schau dir unseren Guide an für eine detailliertere Aufschlüsselung der Dominus-Hitbox:
Wie schlägt sich das Batmobil 2022 im Vergleich?
Ob dir das neue Batmobil gefällt oder nicht, es ist so ziemlich genau dasselbe ist wie die anderen Batmobile. Immerhin kommt es in einem Bundle, bei dem du gleich mal alle unterschiedlichen Varianten ausprobieren kannst. Ein paar der Items aus dem Bundle sehen auch ziemlich cool aus, also schau es dir einfach mal an, wenn du Bock drauf hast.
Powered by