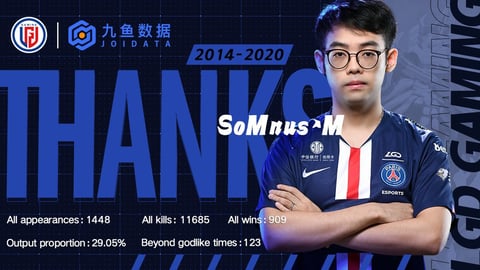 Earlier this week we saw Yang and rOtK leave Vici Gaming. Today Xu "fy" Linsen and Lu "Somnus丶M" Yao part ways with PSG.LGD.
Time passes by and it's becoming more and more likely that a Chinese superstar team might be in the making. LGD is one of the most famous Dota 2 organizations in China. Ever since their partnership with the French Paris Saint Germain, the team turned into PSG.LGD and skyrocketed not only in popularity but also in success. They placed second at The International 2018 and third at TI9, always just a step away from the big title. The team also performed well on the Chinese stage where they were often at the top in most leagues.
Over the last month, there have been rumors that a brand-new Dota 2 team will emerge in China. It all came from the fact that the successful PUBG organization 4AM (4 Angry Men) will be joining the Dota 2 scene. Considering all the leaks included players that were already in top tier Dota 2 teams, the possibility seemed highly unlikely. The past week proved that it all might be coming true.
Somnus and Fy Leave PSG.LGD
Today many Chinese Dota 2 fans were probably shocked as LGD announced two of their star players are leaving the org. The team's captain Xu "fy" Linsen joined in 2017 and has been a major factor in LGD's success over the last few years.
It's time to say goodbye!Our captain fy! pic.twitter.com/TeLtueg6S8

— LGD Gaming (@LGDgaming) September 4, 2020
fy is regarded as one of the best position 4 players in the world and he has plenty of game-changing plays to back that claim.
Lu "Somnus丶M" Yao (aka Maybe) was one of the longest-standing members as he joined the organization way back in 2014 and then the main LGD Dota 2 squad in 2015. After five years, his departure feels like a huge loss not only for LGD.
All the best, Maybe! pic.twitter.com/QSHol9mWCc

— LGD Gaming (@LGDgaming) September 4, 2020
Much like his teammate fy, Somnus is also one of the best mid lane players in the world mostly known for his Shadow Fiend, Storm and Invoker.
With fy and Somnus out of the picture PSG.LGD are left with only three players:
Yang "Chalice" Shenyi
Ren "eLeVeN" Yangwei
Jian Wei "xNova" Yap
Considering the number of roster changes we saw in the last two weeks, there's a high chance LGD might be able to find two new players rather quickly.
The Chinese Superstar Team

As we've already mentioned the 4AM Dota 2 team seems quite possible now. According to a leak it's supposed to include:
Zhang "Eurus" Chengjun (aka Paparazi) – Currently playing for Vici Gaming
Lu "Somnus丶M" Yao – free agent
Zhou "Yang" Haiyang – free agent
Xu "fy" Linsen – free agent
Pan "Fade" Yi – Currently playing for Team Aster
Yao "QQQ" Yi – Currently coaching Team Aster
The pieces are slowly falling in place and even if the roster above isn't the actual one it's still quite big. Having Somnus, Yang, and fy is already impressive. There is still no official news from 4AM regarding their Dota 2 team but something tells us there'll be an update soon.
Will the theoretical superstar teamwork? Share your opinion on our Facebook page!
Stay tuned for more Dota 2 news and check EarlyGame or the EarlyGame Youtube channel for everything gaming and esports.