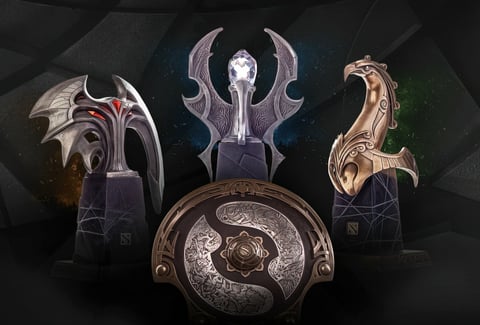 The Dota Pro Circuit was delayed from the fall of 2020 to January 2021. The invitees for the first event are already clear and they were met with criticism from the community. Oh, Valve.
The Dota 2 competitive season is almost here with less than two weeks remaining. The DPC 2021 is set to kick off on January 18 (14 for China) with regional leagues that will build-up to the first Major tournament of the year in late March (remember Minors no longer exist in 2021).
The Dota Pro Circuit 2021 Season. https://t.co/meCrho6LrH

Pro Circuit: https://t.co/Lq2eYqapOe
2021 DPC Registration: https://t.co/mTBkMUyEGO#Dota2 pic.twitter.com/Ssh3V1dixp

— Wykrhm Reddy (@wykrhm) January 1, 2021
The top teams from each region will form the 18 teams that'll make it to the Major. A different number of teams per region will be distributed:
EU: Top 4
China: Top 4
SEA: Top 3
CIS: Top 3
NA: Top 2
SA: Top 2
Valve also revealed the list of invited teams for each of the regions. Here they are:
Europe
OG
Team Secret
Team Liquid
Team Nigma
CIS
Natus Vincere
Virtus.pro
Team Spirit
Live to Win
China
PSG.LGD
EHOME
Vici Gaming
Elephant
SEA
Fnatic
TNC Predator
T1
BOOM Esports
North America
Evil Geniuses
Quincy Crew
4 Zoomers
Sadboys
South America
Infamous
Thunder Predator
beastcoast
SG E-Sports
DPC 2021 - Season 1 Upper Division Direct Invites. #Dota2 pic.twitter.com/aPcPQbtIwn

— Wykrhm Reddy (@wykrhm) January 3, 2021
The remaining four slots in each of the regions will be determined by closed qualifiers. There are hardly any surprises here as the biggest teams in each of the regions are on the list. Some of them just feel weird though. Evil Geniuses basically abandoned the region for the better part of 2020 and didn't even compete in any events. Sadboys was formed recently and they got an invite. Huh?
Some players and talent are rightfully concerned about the invites and the fact that if you don't get an invite to the closed qualifiers, you're on the bench until next season. Otávio "Tavo" Gabriel explains the situation quite well as his team didn't get an invitation.
This deserves WAY more attention.

Nine months of waiting for the DPC, and you're telling me these guys won't even get a shot to play in a QUALIFIER for division 1??@OGADotaPIT ?? @DOTA2 ?? https://t.co/f2vvVatC8e

— Kyle Freedman (@keepingitKyle) January 3, 2021
Others were more displeased with the format and the fact that if you miss the first league your chance to get to The International is non-existent.
I tak, esli ya propuskayu pervy'i dps sezon, moi sansy' popadaniya na int ravny' pocti cto 0, veselo zvucit s ucetom anonsa posle ng e'togo vsego

— Noone (@Noone_dota) January 4, 2021
The first season is the period between the league and the end of the first Major (January 18 – April 4). That's a long period and when you think about it, there'll only be two seasons in 2021 so Noone's statement makes perfect sense.
Noxville went a step further and called Valve out on their incompetence.
Valve are weasley little shits.

For months they've abandoned the pro scene - except to cash in on some juicy Battlepass income.

Players have got a fraction of the income they'd otherwise have. Teams have fallen apart, players have stopped playing or taken breaks.

1/5

— Ben Steenhuisen (@Noxville) January 3, 2021
Valve had plenty of time to figure out a format that'll improve on the already existing one. What we're seeing is definitely not that. Regional Leagues will serve as qualifiers for the Majors and Majors will mostly determine who goes to The International. Remember there aren't going to be any Open Qualifiers for TI this year.
Just like tavo mentioned if you don't get an invitation to the closed qualifiers your team is done for as you'll be missing the entire season. We hardly doubt that Valve will be making some last-minute changes to the rules. You can check the official DPC 2021 FAQ on the Dota 2 website.
Are you excited about the new Dota 2 competitive season? Were you having a deficit of Dota 2 drama? Tell us on our Facebook page or come join the discussion on our Discord server!
For more Dota 2 news and everything else gaming or esports check EarlyGame.