Chukwudi Iwuji the actor of the main villain in Guardians of the Galaxy Vol. 3 just revealed that the ending we know might not be all there is to the story.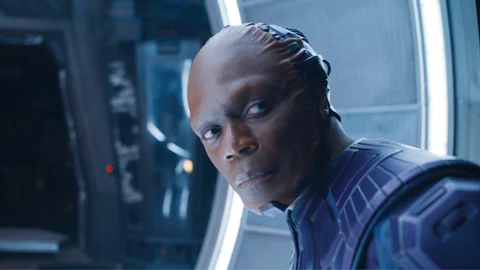 Guardians of the Galaxy Vol. 3 has been a great success for the MCU, getting mostly positive reviews. Now, the actor of the main villain of the movie, Chukwudi Iwuji has revealed, that this might not have been the last we've seen of his character.
Guardians of the Galaxy Vol. 3 focuses on Rocket Raccoon's backstory, as well as Peter Quill dealing with a version of Gamora who doesn't remember him. So it's actually not all about silly jokes this time. This darker tone of the movie really helps distinguish it from the typical MCU comedy tropes we have at the moment.
A character that really fits that new type of storytelling really well is the High Evolutionary, with his Dr. Frankenstein-esque character.
Spoiler Warning from here on out!
High Evolutionary Actor Reveals Alternate Ending For His Character
In the final clash of Guardians of the Galaxy Vol. 3, our main character squad takes down the big baddy (surprising I know). Instead of killing him, they pretty much leave him to die on his ship as it blows up.

This should have been the end of it, but during an appearance on the Comic Book's Phase Zero podcast, the actor of the High Evolutionary, Chukwudi Iwuji mentioned another ending for his character.
"Well, let me just put it this way. I'm hoping you'll see an extended version or maybe an alternate ending, you know, that we certainly did film."

So there definitely is something that James Gunn decided not to show us! Iwuji further emphasized that we didn't see his character die on screen, so we can possibly expect a return of the High Evolutionary, which would be awesome!

I mean the whole point in Marvel is that unless you see someone die they haven't necessarily died and even if they do die, what does that mean in the multiverse, right? [...] But, the point is that Rocket doesn't shoot me. They make a point of saying why don't you kill him, and he says no, I'm not going to kill him. And you don't actually see me go down with the ship. So, I'll just leave it at that.
So yeah, with this, we can be pretty sure that Guardians of the Galaxy Vol. 3 won't be the last we'll see of the High Evolutionary.
Marvel is really trying to get the MCU back on track. They're even trying to get their hands on A-List celebrities:
This article contains affiliate links which are marked with [shopping symbol]. These links can provide a small commission for us under certain conditions. This never affects the products price for you.