MrBeast has expressed disappointment with transphobic comments made towards his crew member Chris after coming out as transgender.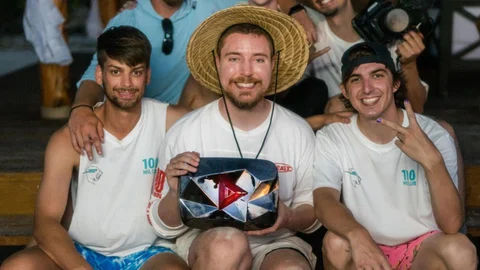 YouTuber MrBeast is defending his friend and crew member Chris, who recently came out as transgender and has been receiving hate and transphobic comments from some fans. MrBeast expressed his disappointment with the treatment Chris has received and affirmed their friendship, while fans and other content creators have shown support for Chris.
MrBeast, who is known for his philanthropic stunts and elaborate challenges, has recently spoken out about the transphobic comments and hate that his friend and crew member Chris Tyson has been receiving after coming out as transgender. Chris had been taking hormone replacement therapy (HRT) for the past two months and had recently revealed his transition to fans after they noticed his changed appearance during the Kids Choice Awards and in recent videos.
MrBeast Calls Out Fans After Transphobic Remarks Against Chris
MrBeast took to Twitter to express his disappointment with the treatment that Chris has received, stating that the transphobic comments "are starting to piss him off" and that the videos that spewed hate towards Chris are absurd. He also affirmed his friendship with Chris and confirmed that nothing has changed between them.
Aint noway mrbeast actually found my tweet of all things, speechless rn pic.twitter.com/ldKgEVQinU

— Relolyn (Ahhhhhh Arc) (@Relolyn) April 13, 2023
The video in question that criticized Chris for "showing more feminine traits" and argued that his transition would "damage" MrBeast's brand has generated over 2 million views in under 18 hours. Fans called out the creator of the video, SunnyV2, for making Chris' transition sound like it was a "business decision" and making it seem like Chris isn't a real person anymore but just an "over the top LGBT character."
Here is the video:
Since coming out, Chris has received both support and hate from MrBeast's fans. Some of the hate he has received argued that his son would "lose a father figure" after it was revealed that he got a divorce. Chris replied to this criticism, stating that he's going to be a great parent and that his son is fine with having him around.
MrBeast, along with other content creators and YouTube themselves, have all declared their support via social media. Hopefully, more people will be open to Chris' transition as he appears more in new MrBeast videos. It's important to stand up against hate and transphobia, and to support those who are brave enough to be true to themselves.
This article contains affiliate links which are marked with [shopping symbol]. These links can provide a small commission for us under certain conditions. This never affects the products price for you.