YouTuber and Streamer Tubbo voiced his concerns about Dream SMP colleague Sapnap joining Twitch's main competitor website, Kick. Why this is a huge deal and what Tubbo said.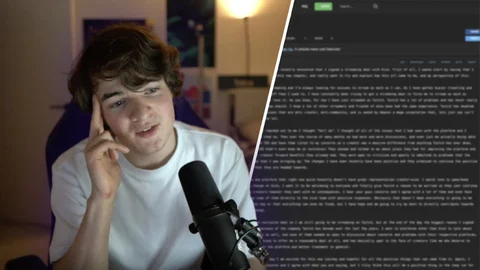 Dream SMP fans showed mixed reactions when Sapnap revealed his shift from Twitch to Kick yesterday. Many people have come out to speak against this, including Minecraft-Streaming colleague Tubbo. We will reveal what this means and why it's so important.
What's Kick And Why It's So Controversial
Kick is a streaming platform and the main competitor to Twitch. Since its release back in December of last year, the website managed to get 10 million users and sign famous influencers like xQc, who was the most successful streamer on Twitch.
time to kick ass pic.twitter.com/ddTpKJ8UDU

— Sapnap (@sapnap) August 9, 2023
The controversy with Kick came up mainly because of streaming guidelines by both websites. You see, back in 2022, Twitch banned gambling. This was because many streamers with an audience made up primarily by minors were playing slot machine games for hours on end and got paid for it. This was extremely harmful since it encouraged a young audience to live a lifestyle that could end in an addiction.

One online-gambling site based on crypto that was heavily impacted by this rule change was Stake, who then decided to start their own streaming platform, which is Kick. The rules of this new site are simple: No pornography and no hate speech.

Even though Kick does have a rule which forbids gambling against other Kick users and their fight against sexual content and hate speech is commendable, the execution of those guidelines is lacking. Livestreamer Adin Ross, famous for being an Andrew Tate wannabe and getting banned from Twitch, has found a new platform for his harmful content on Kick. Despite illegally streaming the Super Bowl and showing pornographic content, he is still strolling around, spreading his hateful messages. Doesn't sound too law-abiding to me.

Kick is also being questioned for their huge revenue split of 95% of all subscription incomes and 100% of tips, in addition for the insane stacks of cash they pull out to sign some streamers in the first place, seen in the $100 Million deal with xQc. Reminds me of those spam emails that you shall never answer, too fishy for their own good.
Tubbo's Statement on Twitch
In a Just Chatting stream from a few hours ago, Tubbo read through Sapnap's official statement on Kick and gave his own two cents on it.
In the text, Sapnap reveals that he has had his own concerns when he was approached by Kick as well, but felt instantly more supported by them than Twitch. Kick was open to criticism, and he got approached by the CEO himself. He expressed his frustration about the way Twitch treats their creators with a lack of respect. In addition to that, he reveals that the deal with Kick is non-exclusive, and he'll still stream on Twitch too, and then thanks his audience for the support they give him.
One specific part of the statement reads:
I would love to spearhead positive change at Kick, I want it to be welcoming to everyone and finally give Twitch a reason to be worried so they cant continue treating creators however they want with no consequences.
Tubbo reacted to this by saying that a majority of Sapnap's audience are people in communities such as the LGBTQIA+ and are a younger demographic. He expresses his concerns for the safety of his audience on the platform to be openly trans, Jewish, of color and more.
He doesn't blame Sapnap for not wanting to be a positive change, but thinks that he has a powerful voice which he should use more responsibly. Only he can decide where he wants to bring his community and only he has the power to protect them.
It's important to note that there probably aren't any hard feelings between Tubbo and Sapnap, and they seem to remain friends. But we do appreciate that Tubbo voiced his opinion on this topic.
Go and show Tubbo some love with this Twitch gift card.
This article contains affiliate links which are marked with [shopping symbol]. These links can provide a small commission for us under certain conditions. This never affects the products price for you.