We have listed the best goal celebrations in FIFA 23, and show you how to use them. From the Griddy to the Gamer – celebrate your last second screamer in FUT the right way.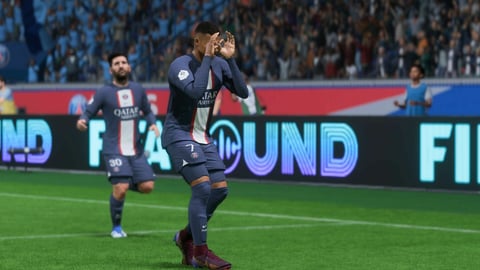 Whenever you are on the run to get those FUT Champs rewards in FIFA 23, you want to celebrate your goals with style. Especially in very hard and close matches in FUT, some goals just deserve a proper celebration.
You've come to the right place if you are looking for some cool new celebrations you can easily add to your books.

New Best Goal Celebrations In FIFA 23 And How To Do Them
If you're scoring a last second winner in FUT Champions, you have to celebrate it properly. For that, you can choose from more than 100 different celebrations, which can be executed through different button combinations and found in the menu. Stars like Cristiano Ronaldo or Kylian Mbappé have their very own signature moves. To use these, simply press X on PlayStation or A on Xbox.
If you selected a special celebration in the stadium section of the FUT menu, just press circle or B and your player will do the special move.

There is one rule for FIFA: new is always better. Here are all new celebrations and the button combinations to do them:
| | |
| --- | --- |
| Goal Celebration | Button Combination |
| Arm Swing | Hold L1/LB and flick R ⇨⇦ |
| Billionaire Strut | Hold L1/LB and hold R ⇩ |
| Eye of the Storm | Hold R1/RB and spin R to the left |
| Gamer | Hold R1/RB and flick R ⇨⇦ |
| Griddy | Hold R2/RT and flick R⇧⇧ |
| Slide & Flex | Hold R1/RB and hold R ⇩ |
| Slide Salute | Hold R1/RB and hold R ⇨ |
Scored a banger?
Which new celebration are you using?

See all the visual upgrades in #FIFA23 https://t.co/EeDl8gjj8D pic.twitter.com/FJBpO9u9Ri

— EA SPORTS FIFA (@EASPORTSFIFA) August 6, 2022
The most used new celebration is the Griddy, as you will have probably experienced yourself. The celebration, which was invented by Allen Davis and made popular by NFL star Justin Jefferson, really annoys your opponent.
More Popular Goal Celebrations In FUT
Obviously, Cristiano Ronaldo's "Right Here Right Now" is still quite popular. It's his iconic SIU celebration where you jump, turn around and land wide-legged. If you hold R1 or RB and press circle or B you will celebrate like CR7.
Kylian Mbappé also got his "Little Brother" signature celebration, where you will end up with crossed arms. Just hold L2 or LT and double tap circle or B. Easy.
Another popular celebration is the "Billionaire Strut", where you walk leaning back and throwing your arms up in the air. You can do it if you hold L1 or LB and hold R ⇩. And we can recommend Erling Haaland's signature move where he jumps up and lands just like the force of nature that he is. Also, not hard: Hold R1 or RB and flick R⇧⇩.
Diogo Jota's celebration is in FIFA 23! pic.twitter.com/Lpj9MqJU39

— The Anfield Talk (@TheAnfieldTalk) August 5, 2022