Pro Clubs is one of the most popular game modes in FIFA after Ultimate Team and the Career Mode. For the upcoming FIFA, EA Sports FC, Pro Clubs will probably also get a new name...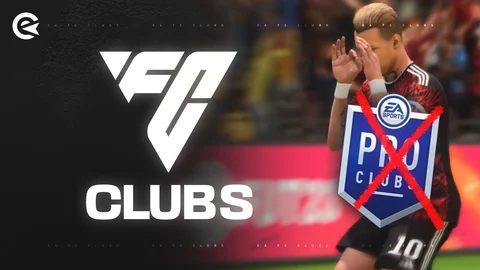 Pro Clubs will soon be history! At least this is true for the name of the 11 vs. 11 game mode in FIFA. For the new football simulation from Electronic Arts, EA Sports FC, "Pro Clubs" will be renamed "Clubs". This is the result of some leaks - but EA has not confirmed anything yet.

However, the name change is not the only innovation concerning the EA Sports FC mode. Among other things, you can look forward to a completely new league system! We break down the Pro Clubs Leaks in EAFC for you.

You want to know more about EA Sports FC? Then you should definitely check out our EA Sports FC Leaks!
EA Sports FC: Pro Clubs To Be Called "Clubs" In The Future
The name change from Pro Clubs to Clubs is not really dramatic, it doesn't change the game mode itself. It will still be about having fun with your friends and playing FIFA in a rather relaxed way.
Pro Clubs has already received various innovations in FIFA 23, including the merger with VOLTA, through which you could earn epic cosmetics. To make playing even more attractive, a new league system is also to be introduced.
These leaks come from FIFAUTEAM via Twitter, who has emerged as a trustworthy source in the past few weeks.
FIFA 23 Pro Clubs: All tips and tricks about skill points, levels, perks and attributes!
Clubs in EA Sports FC: New League System
Up to now you have played the well-known seasons system in Pro Clubs. You start in league 10 and have to play your way up to league 1. According to the leaks, this system will be history for clubs in EA Sports FC.
The new league system is supposed to be similar to Division Rivals from FUT. The Elite Division is the highest league. In Rivals, there are eleven leagues, but you have as many games as you want to advance to the next higher league, from which you can no longer be relegated.

Crossplay For Pro Clubs Reportedly In The Works
A Clubs Season is supposed to last five weeks, during which you can advance to the Elite Division. After these five weeks there will be a week in which playoffswill be played. That sounds really exciting. To what extent the matchmaking will work remains to be seen. But the system definitely has potential. With playoff games, the grind would finally pay off. So far, you haven't received any rewards if you've been promoted to a higher league or even won the first division.
The leaks also predict positive things in terms of cross-play: EA is said to be working on making it possible for the new and old consoles to play together in the future. Whether we will really see this, we doubt. These rumours have been around since FIFA 20 and they never came true. But basically it would be very cool if we could play together with all our buddies, simply and easily across platforms... not only in Pro Clubs.
As of now, all this is still unconfirmed, as the game is still in development. We'll keep you posted on the changes - and if you missed the teaser trailer for EA Sports FC, you can watch it via the link.

This article contains affiliate links which are marked with [shopping symbol]. These links can provide a small commission for us under certain conditions. This never affects the products price for you.