In FIFA 22, we've just got a new SBC for Ultimate Team: FUT Birthday Mikel Oyarzabal can be completed. But is the challenge worth it? And how many coins do you have to spend? Let's have a look...
At the moment, FUT Birthday is running, and EA Sports releases a new SBC every day. Today's special: Mikel Oyarzabal. This guy once again plays a pretty decent season in LaLiga Santander, has already been featured in the Team of the Week twice and has now also gotten a new special card. We'll take a closer look at his SBC today!

FUT Birthday Oyarzabal SBC Summary

On March 19, the SBC including Oyarzabal expires, so if the player fits perfectly into your team, you have to react relatively quickly. By the way, the next promo in Ultimate Team will be on its way until then – you can see which one's coming up next in our FUT calendar. Well, let's get back to the SBC:

| | |
| --- | --- |
| Position | LW |
| Nation | Spain |
| League | LaLiga Santander |
| Club | Real Sociedad |
| OVR | 92 |
| Price | 182K-197K |
| Pace | 94 |
| Shooting | 89 |
| Passing | 88 |
| Dribbling | 93 |
| Defending | 47 |
| Physicality | 76 |
When you think of meta players in FIFA 22, Mikel Oyarzabal probably doesn't come to mind right away. Sometimes it feels like the Spaniard flies under the radar because he brings some fantastic attributes to the table: He is damn fast, dribbles past opponents easily and with "Lean" he also has a reasonable body type for FUT. Only his 3* Skills and 3* Weak Foot hold him back... at least one of these stats has been upgraded now.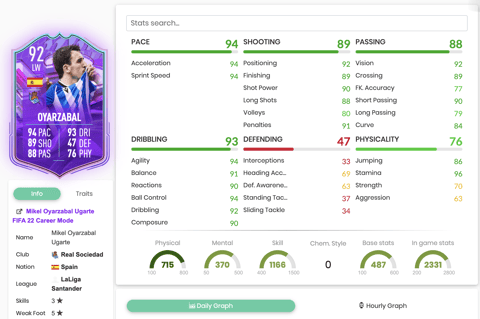 Is The FUT Birthday Oyarzabal SBC In FIFA 22 Worth It?
No, probably not. Unless you're the biggest LaLiga Santander fan, you should probably skip the SBC. The community isn't exactly thrilled with Oyarzabal either: only 23% of players gave the challenge a thumbs up on Futbin. No comparison to the Sergio Ramos Special Card a few days ago...

Pro Mikel Oyarzabal
Con Mikel Oyarzabal

too expensive
no meta players
3* Skills
Mikel Oyarzabal SBC Cheapest Solution & Rewards
What is the cheapest way to complete the Oyarzabal SBC? If we're even showing you the cheapest solution, it means that this challenge has a lot to offer! And of course, even with average cards, you should know how to get the cheapest deal. So let's take a look at the teams you have to swap for FUT Birthday Mikel Oyarzabal:
| | | |
| --- | --- | --- |
| PlayStation | Xbox | PC |
| 183K | 187K | 195K |
Oyarzabal Spain SBC Cheapest Solution & Rewards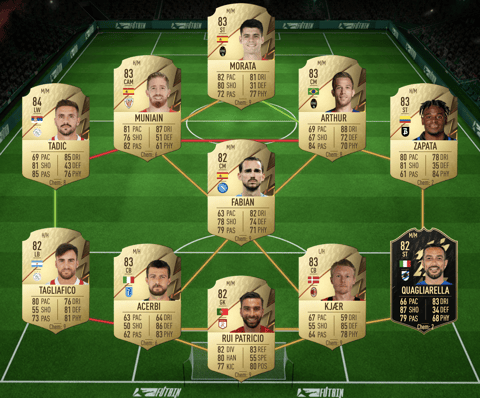 Oyarzabal Team 1 SBC Requirements
Players from Spain: Min. 1
IF-Players: Min. 1
Squad Rating: Min. 83
Team Chemistry: Min. 75
Reward: Small Rare Mixed Players Pack
| | | |
| --- | --- | --- |
| PlayStation | Xbox | PC |
| 30K | 31,5K | 32K |
Oyarzabal Top Form SBC Cheapest Solution & Rewards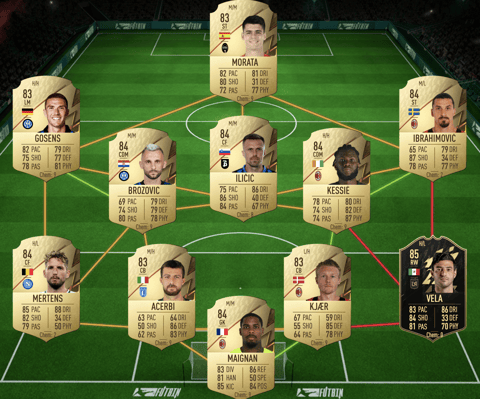 Oyarzabal Team 2 SBC Requirements
IF-Players: Min. 1

Squad Rating: Min. 84
Team Chemistry: Min. 70
Reward: Prime Mixed Players Pack
| | | |
| --- | --- | --- |
| PlayStation | Xbox | PC |
| 60K | 65K | 65,5K |
Oyarzabal LaLiga SBC Cheapest Solution & Rewards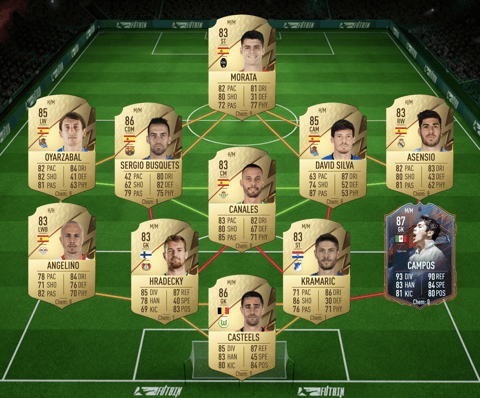 Oyarzabal Team 3 SBC Requirements
LaLiga Santander Players: Min. 1

Squad Rating: Min. 85
Team Chemistry: Min. 60
Reward: Premium Electrum Players Pack
| | | |
| --- | --- | --- |
| PlayStation | Xbox | PC |
| 93K | 90K | 97,5K |
SBCs are extremely popular in FUT. You shouldn't miss out on these Challenges: