In Ultimate Team, of course, you only want the best players on your team. That's why we're showing you the best wingers in FIFA 22 Ultimate Team!
In the end, only one single player decides the match in football – and usually with a goal. If your offense doesn't work, you shouldn't even start the game.
To make sure you don't have to worry about feeding your strikers with many great chances and relying only on their skills, we've picked some of the best wingers in FIFA 22 Ultimate Team. Since you probably won't be the richest guy in Ultimate Team right now, we have covered different price ranges. Here we go!

The Best Wingers in Ultimate Team
Prime Icon Ronaldinho [4,8 Million Coins]
Even if only a few can afford them, we don't want to ignore the legendary icons. So if you have too many coins, you can take a look at Ronaldinho.
When I see his stats, I get flashbacks to my childhood. 92 pace, 90 shooting and 95 dribbling – just insane! Ronaldinho is the synonym for a real legend. But the Brazilian also costs a few millions.
Headliners Mohamed Salah [1,13 Million Coins]

The next player won't be any less expensive. With Mohamed Salah, you get one of the best players in the world into your team. Although the Egyptian's lost his 90 rating at the start of FIFA, by now, he made up for it with a ton of different Special Cards.
The meta crown belongs to players like Kylian Mbappé or Lionel Messi, but the Liverpool star is easily one of the best in the game. You can get Salah for a little over a million coins. In a Premier League build, the Egyptian definitely has to appear in the starting XI. Just look at his stats: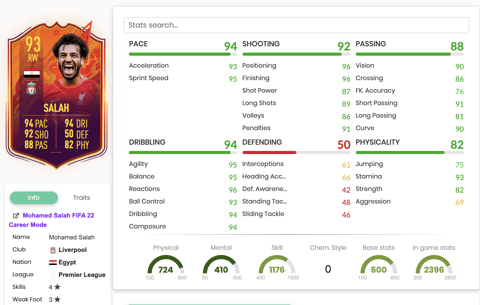 Winter Wildcards Raheem Sterling [350K Coins]
If you are not a millionaire in Ultimate Team by now (loser), we can show you a great – and above all cheaper – alternative! With Raheem Sterling from the Winter Wildcards Event, the tragic hero of the last few years is part of our meta ranking as well.
The Englishman could have decided the most important matches of Manchester City in the last few seasons... but in the end, there was only heartbreak. Whether against Tottenham 2019 or Lyon 2020, Sterling was always in the spotlight. For only 350K, you can secure his services and give him another chance.

Ousmane Dembélé – Gold Card [2,100 Coins]
In the lowest price category, with Ousmane Dembélé, we have a player who attracts bad news like a magnet. The future could clearly belong to the French winger from Barcelona if he gets his attitude under control. But hey, at least in FIFA, he literally cannot strike and will always be there for you when you need him.
In FIFA Ultimate Team, Dembélé only costs around 2K, which is a fancy price for his 93 pace and strong dribbling abilities (86). If you're on a budget and want to build a LaLiga Squad, there's no way around Dembélé.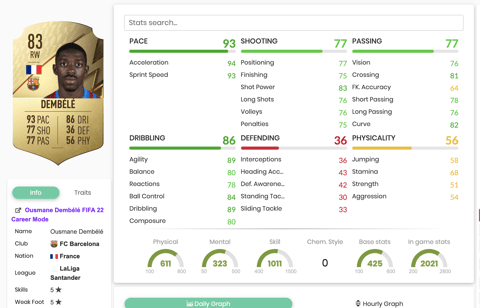 And that's it! That was a quick rundown of the strikers you should look at in your FUT career. What does your OP team look like? If you like to keep track of literally everything, have a look at our FUT calendar – then you will always know which event is coming up in FIFA 22.