In Ultimate Team, of course, you only want the best players in your squad. That's why we're showing you the best midfielders in FIFA 22 Ultimate Team!
The midfield is the heart of your team – take the TOTY in FIFA 22 for instance. If the chemistry between your players doesn't feel right, your whole team will fall apart. To make sure that this doesn't happen to you, we've picked out some of the most reliable and best midfielders in FIFA 22 Ultimate Team. Since you probably only have a certain number of coins to spend, we have covered all the different price ranges. So... what are we waiting for?
The Best Midfielders in Ultimate Team
Prime Icon Ruud Gullit [4 Million Coins]
Even if only a few can afford an icon, we don't want to ignore these legends of the game. So if you have too many coins in your wallet, you really should take a look at Ruud Gullit. It is not for nothing that he is the namesake of the infamous Gullit Gang in FIFA.
Each of his stats is over 80, in his prime version, some are even above 90. We probably don't have to explain to anyone that this is absolutely awesome. For many years Esport players have relied on Gullit in midfield... so in FIFA 22, he costs accordingly. At least you can play his card the whole year without any problems!
TOTY N'Golo Kanté [3.8 Million Coins]

The next player is expensive too. In Germany, we call players like him a vacuum cleaner – and I think that's beautiful. The Frenchman cleans up in front of your defense and brings every Premier League build to perfection. Kanté is the best CDM in FIFA 22 for a reason!
But like always, the quality has its price... you have to pay 200K for your new boss player – and that's only his gold card. For his TOTY you have to pay significantly more and even have to be prepared to snipe. After all, everyone wants Kanté in their squad – we can absolutely understand that. N'Golo is simply a great guy!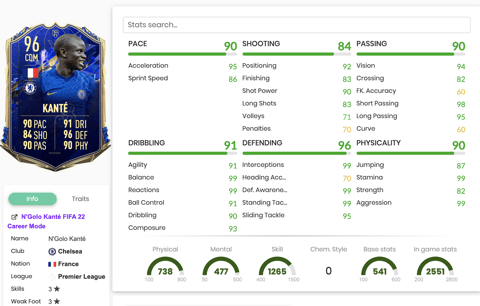 Headliners Seko Fofana [850,000 Coins]
In terms of gameplay, he's pretty much the exact opposite of N'Golo Kanté. Instead of a vacuum cleaner, you get a real bull in midfield. With the stats and presence on the field, Fofana can easily become a bouncer after his soccer career.
The card gets even better because it is a headliner. This means, of course, that if he or his team deliver some more brilliant performances, his stats may as well improve even further. So it's a good investment for the summer.
Marcos Llorente – Gold Card [12,000 Coins]
If you are one of those broke losers, who don't carry half a million coins in their pockets, then you should aim a little lower. Atlético's Marcos Llorente was one of the most popular cards at the beginning of FIFA 22, because this lad delivers everything you want.
For just 12K, you get a card with (almost) all stats above 80. The Spaniard dominates the pitch and my emotions. So, if you are still looking for a game changer... then you should definitely go for Llorente!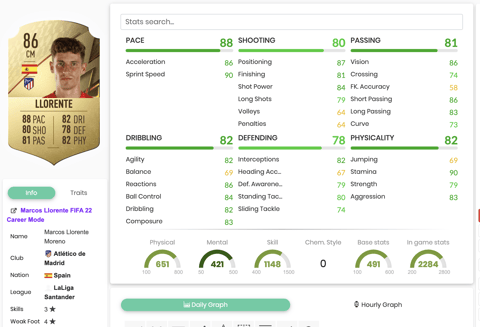 And that's it! That was a quick rundown of the midfielders to look out for in your FUT career. What does your personal OP team look like? If you like to keep track of literally everything, have a look at our FUT calendar – then you will always know which event is coming up in FIFA 22.