To be honest, the best players in FIFA 22 aren't the highest rated ones. It's always about who is OP. So, let's take a look at the OP right-backs in the game.
All Ultimate Team players are looking for the best players in every position. Today, we're going to show you which right-backs are the strongest in FIFA 22. We divide it into three price categories, so that there really is something for everyone.
Important: This is about the best in game - i.e. meta players that we already had the highest rated right backs. You don't always need a 194 squad rating including 5 TOTY players...
FIFA 22 Ultimate Team Meta Right-Backs
Prime Icon Marcos Cafu [800,000 Coins]
The best right-back you can get in Ultimate Team is Prime Icon Cafu. Since very few of you are likely to have that many coins lying around for a RB in your club, we will show you alternatives that are not as blatant as Cafu Icon, but also OP - at least for their price range.
TOTY Achraf Hakimi [1 Million Coins]
In the first price range, we have Achraf Hakimi. PSG transferred 60 million euros to Milan, and so far, it has absolutely paid off. In FIFA 22, he is by far the best RB for this price, and in the offense he's also extremely strong. The Moroccan can therefore also be used in midfield. Price? Just under 1 million coins. With the stats, however, this price is completely understandable, take a look: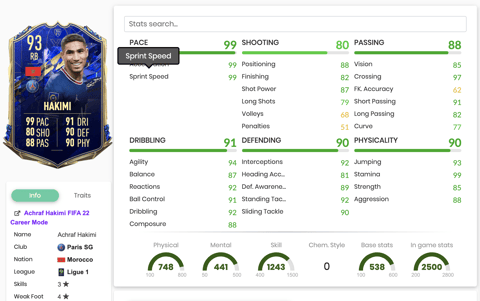 Player Moments Sergiño Dest [100,000 Coins]
The SBC has just been released and already, Sergiño Dest has made it onto this list. The US-American has received a Player Moments version from publisher EA, which has been greatly improved compared to the Gold Card.
The Barcelona player has everything you could want from a right-back in FIFA 22: Speed, decent Passing, and solid Defending. If we've got you a little fired up, be sure to complete the Challenge as cheaply as possible.
Kyle Walker – Gold Rare [11,000 Coins]
With Kyle Walker, we have chosen another player with world-class qualities. Do you remember how awesome the Englishman was last year? And above all, in what position? Walker is now moving from central defense to right-back again. CBs are just too strong in FIFA 22. But his stats are also terrific on RB. He costs 11K, do you have that much left over?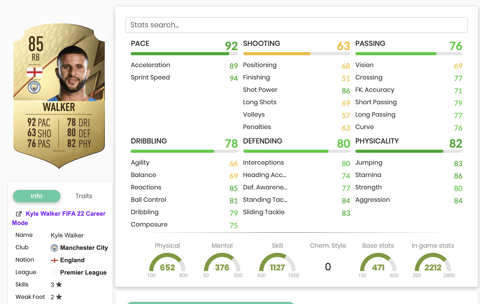 And that's it! That was a quick rundown of the right backs to look out for in your FUT career. What does your personal OP team look like? If you like to keep track of literally everything, have a look at our FUT calendar – that way you'll always know which event is coming up next in FIFA 22.