We're finally moving away from the highest rated players and towards the best in-game players in every position. Because in the end, it depends on their in game qualities. So what meta left-backs do we have in each price range?
All Ultimate Team players are looking for the best players in each position – that doesn't necessarily mean only Team of the Year players, though. Today, we're going to show you which left-backs are the strongest in FIFA 22. We divide it into three price categories, so that there really is something for everyone.
Important: This is about the best players in-game – i.e., meta players, as we already had the highest rated left backs.
FIFA 22 Ultimate Team Meta Left-Backs
Prime Icon Roberto Carlos [1,15 Million Coins]
The best left-back you can get in Ultimate Team is Roberto Carlos. Since very few of you are likely to have over a million coins lying around for a LB in your club, we will show you alternatives that are also OP – at least for their price range.
When we think of Roberto Carlos, we think of his legendary free kicks. In FIFA 22, however, the Brazilian also excels at other skills. In his Prime Icon variant, for example, literally everything is as green as it gets.
Baby Icon Ashley Cole [210,000 Coins]
In the first price range, we have Ashley Cole. The Englishman is new in FIFA 22. Do you remember him at Chelsea? So do we… a true legend. This year, he is there for the first time and one of the best in his position.
So if you have 300k left for the Baby Icon, you should get him. Why the Baby Icon? Well, of all three versions (Moments Stats not yet known) this card has the most pace. And that's definitely what matters in the FIFA 22 meta down the wings. Apart from that, there are outstanding alternatives on the position…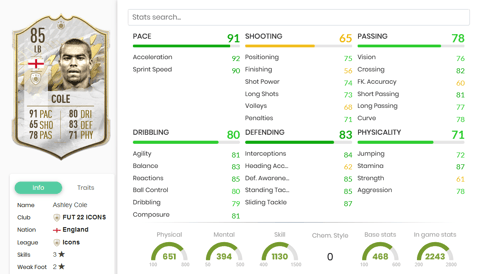 Christian Günter – Winter Wildcards [48,000 Coins]
For the next price category, we have thrown the Bundesliga fans a bone. Probably nobody expects him in Ultimate Team, but the things he does on the left flank are very solid in FIFA 22. Just like in real life.
Just because the Winter Wildcards Event was one of the best promos in FIFA 22 so far (maybe ever), Christian Günter flew a bit under the radar. But you shouldn't underestimate his card. 90 Pace, 81 Defending and 87 Physicality are a good alternative if you missed POTM Davies and still need a Bundesliga defender.
Theo Hernández – Gold Rare [9,000 Coins]
Who do we have in the cheapest price range for you? Theo Hernández from Milan. The French only costs 9K, and you can link him perfectly with a lot of other OP players. With 93 pace, he has a lot of speed. Anchor is a good chemistry style for him.
So there are many opportunities in the position, but don't underestimate the full backs! They are extremely important.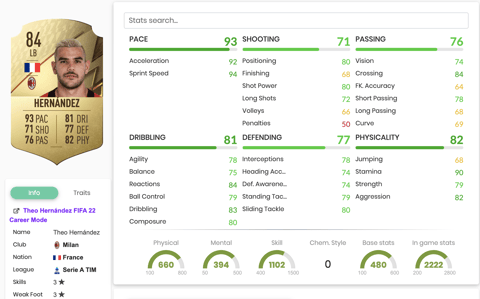 And that's it! That was a quick rundown of the left backs to look out for in your FUT career. What does your personal OP team look like? If you like to keep track of literally everything, have a look at our FUT calendar – that way you'll always know which event is coming up next in FIFA 22.