In Ultimate Team, of course, you only want the best players on your team. That's why we're showing you the best goalkeepers in FIFA 22 Ultimate Team!
Goals decide matches – so you need someone at the back to scratch the ball off the line in every game. To make sure you don't concede goal after goal, we've picked some of the best goalkeepers in FIFA 22 Ultimate Team.
Since you are probably not the richest player in the game right now, we have covered different price ranges. Not everyone needs 5 TOTY players to get a decent rank in the Weekend League. Here we go!
The Best Goalkeepers in FIFA 22 Ultimate Team
Prime Icon Lev Yashin [698,000 Coins]
Even if only a few can afford just one of them, we don't want to ignore the legendary icons in this rating. So, if you have way too many coins on your edge, you should take a look at goalkeeping legend Lev Yashin.
The Russian European champion from 1960 has some of the craziest stats you can imagine for a goalkeeper. With around 700,000 Coins, Yashin is sure to be found in the top price range... historically, goalkeepers have never been quite that expensive in FIFA.
TOTY Gianluigi Donnarumma [300,000 Coins]

The next goalkeepers are nowhere near the prices of the Icons. With Gianluigi Donnarumma you could get a European champion for your team. Due to his TOTY Upgrade, he is the best goalkeeper in the game, so you'll have to spend a few bucks for the Italian. You have to pay a total of around 300K for Donnarumma. But in the end, you'll get an excellent goalkeeper. Check out his stats: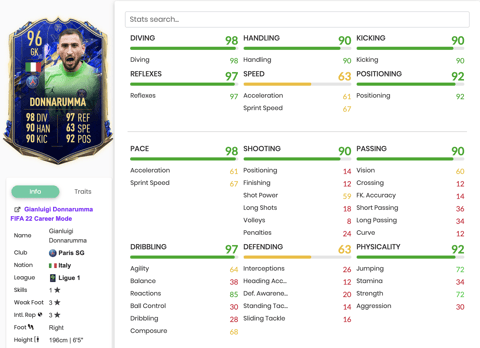 Jan Oblak – Gold Rare [68,000 Coins]
If you want to focus less on glamour and more on quality, you should take a look at our next goalie. Because this guy is the meta. With other words – he is simply the goalkeeper with the highest rating.
Jan Oblak is the hero you were searching for. If you have 68K coins just lying around, you'd better invest them in the best goalkeeper in the game... and probably of the world.
Samir Handanovic – Gold Rare [13,000 Coins]
But even if you are completely broke, you can still get a great goalkeeper for little money! With Samir Handanovic, you get an 86 goalkeeper with solid stats... for a ridiculous 13K.
Other goalkeepers have much better diving or handling stats, but so far his gold card has really hit the mark. Although goalkeepers aren't as buggy and also immortal as they used to be, you'll get a fantastic goalkeeper who doesn't ruin your finances.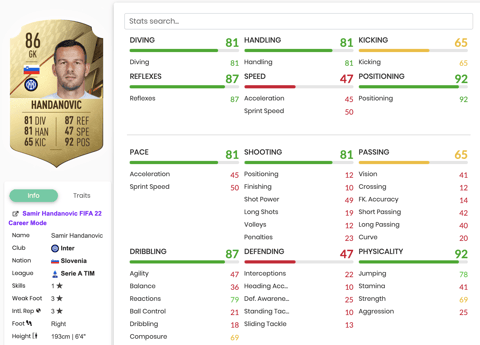 And that's it! That was a quick rundown of the goalkeepers you should look at in your FUT career. What does your OP team look like? If you like to keep track of literally everything, have a look at our FUT calendar – that way you'll always know which event is coming up next in FIFA 22.